New Projects From Joe Russo
August 26, 2008

| Book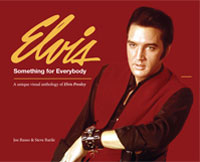 Joe Russo, author of the recently released book " Elvis: Something For Everybody" wrote in his recent column- Joe Russo's Elvis ... Straight Up! - on the FECC site that his company That's All Right! Publishing has two projects are in development "as we speak". More information when available.
Source:
For CD Collectors Only
I just saw 'Something For Everybody' and it's a really great book. So good to see quality, hardcover books offering unseen photos. Makes a nice change. Great book, fellas!
genedin
wrote on
September 02, 2008
the pictures in this book are unbelieveble. if you seen some of them you havent in this quality. top notch work guys.