Something For Everybody
Book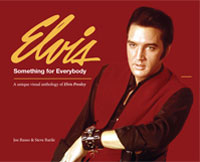 Released: 2008/08
by That's All Right Publishing
The book "Elvis: Something For Everybody" by Joe Russo ("Elvis-Straight Up" with Joe Esposito and "Our Memories Of Elvis" with Dr. George Nichopoulos) and Elvis archivist Steve Barile. The hard cover 130 pages glossy book spans span the entire career of Elvis in rare and unique images.
ElvisNews review
Joe Russo and Steve Barile published the picture book "Something For Everybody". Isit something for everybody?
Design
The book holds 120 pages in a hardboard cover with great publicity picture from the "Comeback Special". The pictures - both black and white - are presented on high quality paper without any information. The photo captions are printed in the back of the book. A strange choice as there is enough free space in the lay-out to add the captions with the pictures. ContentIn the introduction the authors claim to unveil fresh and powerful images of Elvis Presley that have remained invisible to the general public. They have made it their mission not to duplicate previously seen images unless they are published in an unusual variation or better quality. Did they succeed in their mission? No!
I'm not a big expert on images but I have seen most images in other publication or on the World Wide Web.

Does that make it a bad book? Again the answer is no. The variety of images is very big, it covers all era's of Elvis career. We only get pictures of Elvis looking great, so only a limited amount of seventies pics. The only very late picture is from May 28, 1977 when Elvis shakes hand with a fan from the stage. A great shot to close a book.

The authors decided not to present the images in a chronological order, and with a mix bag of content as in this book that was a good choice. It keeps every turn of the page a surprise. Some of the images presented together appear have similar theme, but that's about all the order I could discover.
Besides the photo's the book contains several pieces of memorabilia, mostly cover from magazines. Perhaps the most rare item is the little poem Elvis wrote about a little robin. The original poem was auction off just recently so I do wonder where the authors found this item. Looking closely at the image they found it on a website somewhere.
Conclusion
It is a nice picture book, browsing the pages each page is a new surprise so it is definitely something for everybody. Is it a book for the casual fan, probably? Is it a book for the fan that has more than a handful of picture books covering Elvis' life, probably not. I can't help but thinking "where did I see this one before?".