Monday Chart Update
March 19, 2007

| Video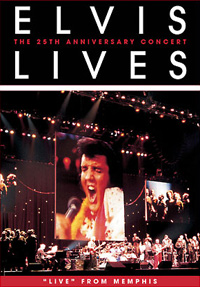 Last week the "Elvis Lives" DVD was a new entry on the UK Music DVD top 10, straight at #1, this week the DVD drops to #3.
Source:
BBC Top 40
Related links
Dont hate me, but what do people like about this release? i saw it on tv and i dont get it! it in no way looks like hes performing with tha band not that i expect it to,to me it just looks kinda sad!
For those who saw 'Elvis - The Concert' this is a must purchase. The sound is awesome and it is a great historical look at great musicians/singers in a then and now perspective. The bonus interview material with Ronnie Tutt, a member of The Imperials, Gordon Stoker and Joe Guercio is worth the price of the DVD alone. This DVD is unique as no other artist/group has attempted to release a similar one.