Elvis Lives - The 25th Anniversary Concert
Video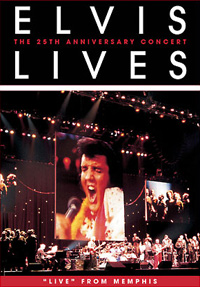 Released: 2007/03/06
by EMI Distribution
This show took place in front of a sell-out crowd in Memphis, on August 16, 2002 in commemoration of the 25th anniversary of Elvis' passing. It starred Elvis Presley (via video) joined by a large gathering of his former band and vocal groups.
ElvisNews review
Finally released officially on DVD is a performance from the "Elvis The Concert" tour; the 25th Anniversary Concert. Can we drop the fan releases?

Design

The design of this release is very simple, just a shot of the stage from the audience. Although I would have preferred the use of the actual 25th anniversary concert poster, this cover does show exactly what you get. A few liner notes (from Lisa Marie?) would have been nice too, after all this was a celebration concert and for many fans an historic event.

Content

More important than the image on the box is the content inside. Most of us have visited the "Elvis The Concert" tour one or more times. And indeed it is the closest thing to the original for many of us younger or non American fans.

This concert is an extract of the 25th Anniversary Concert and gives us basically the complete "Elvis The Concert" concert. We have reviewed that several times, so I won't go into the concert itself, you can simply relive that experience by watching this DVD yourself.

Knowing the program of the actual 25th Anniversary Concert we have the first disappointment, why not bring us the complete concert?!? If this was filmed, so was the other half of the show. That additional material would have been great for the fans who could not attend that very special concert with the many additional artists and performances.

As for the presentation of the concert, we can only compliment the editors. The audio is very good, so is the video. Contrary to the live concert you see Elvis very clear in stead of on a bubbled screen. It is just like watching a real concert registration. Only Elvis hair due and the split screens with the old and new footage of the band members gives it away. The camera sometimes misses the solo's, focusing on the wrong band member or performer. The second minor is that in between the songs they edited commends from Ronnie Tutt, Joe Guercio and others, that spoils the sequence. There is a bonus section in which the guys sit around and talk about the show, just leave it there.

We do wonder why the show is available through the EPE store only before releasing it worldwide January 2007. The complete product is available so why not press a "few" copies more.

Conclusion

A very fun release to experience the concert over and over again, unfortunately again an incomplete release, so hold on to the fan releases for the complete concert.