Details 2006 Elvis TV Guide
November 12, 2006

| Music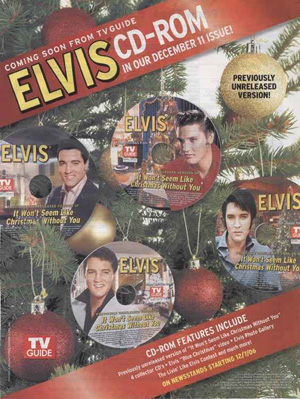 The December 7, 2006 edition of TV Guide will come with one of four different CD-Rom's for your Christmas tree. The disc contains a previously unreleased version of "It Won't Seem Like Christmas Without You", "Blue Christmas" video, an Elvis photo gallery, the "Livin' Like Elvis" contest and more.
Source:
Email
Sounds like a great idea to me!
More than 9 million copies of the American TV Guide are sold! How many when Elvis is on the cover??? All these millions of free Elvis CDs are they being tallied or not? I keep asking the question since the million selling British "Sunday Times" newspaper gave away a free Elvis CD back in 2001. Many more newspapers since then have given away free Elvis CDs including at least 3 in Irelandtoo. At this rate there will be hardly a home without Elvis in the near future. Are you listening BMG?