Heartbreak Hotel Take 6
January 11, 2006

| Music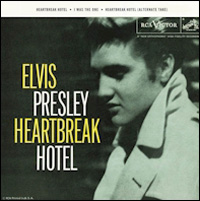 The classic single "Heartbreak Hotel" has been re-released on CD-single with an alternate take on January 10, 2006. The disc contains 3 tracks, the alternate take of the title song is the previously released take 6 from the "Platinum" box.
Source:
Elvis 2nd To None
i pre-ordred my cd copy from my local HMV store, but when i went to pick the cd up, they told me it was not out yet!-not till 'febuary 13th!! why then is people saying the single is allready out in the shops? (according to other music shops, i.e.virgin megastores, they aint even heard of "heartbreak hotel" even being re-released??) is this cd only gonna be available at hmv stores?..hope not??
It is released in the USA. I can concur with fans on another board that the sound is slightly improved and that there is some extra "studio chat" faintly heard before the outtake which had not been previously heard. This song is certainly worthy of the hype and celebration.