Elvis Sessions III
Book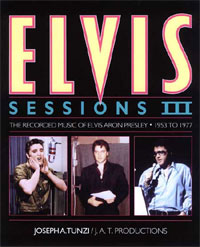 Released: 2004/10
by JAT Publishing
ElvisNews review
This review almost seemed to go the same way as the book itself. It was postponed a few times due to several reasons, but finally we had the time to write down our impression of it.

Design

With books like this it is very important to have a consistent design. Gladly it has one that is pretty good. Little logos are used in the corner of each page to show what year the page handles, making it easy to find your way chronologically. Big fat bars are used to divide the different sessions, and the lay-out of each session is very clear: Location, dates, songs, musicians, vocalists, notes and outtakes are listed always in the same order. The book is decorated with quite some (unknown) pictures and memorabilia. Unfortunately the kind of paper used for the book doesn't make all pictures that good, but we have this book mainly for the interesting text.

Content

After all sessions and (official) live recordings we get the post 1977 re-recording sessions listed completely. Thumbing through it we got tired by only the thought of so much work. After all the sessions a complete discography (RCA/BMG/FTD and JAT) and a selected videography show up. All R.I.A.A. certifications are listed too, something to keep up-to-date ourselves. Another list gives us the top ten singles, extended plays and albums. The films, TV specials and videos get first listed before another chapter is used to analyze them.
A huge list of soundboard recordings, rehearsals, lost singles and albums are interesting for the completists.

An overview of essential bootlegs consumes over 22 pages. Nice "decoration" are a couple of pages with tape legends. And a list of interesting outtakes and live recordings brings us to the only minor in this book: the song index. A missed chance to create the "final" sessions book, since the index doesn't refer to the various sessions and shows where the songs were recorded. Finally we get two pages of fun reading about what the future will bring and the "Rumor Mill".

Conclusion

Maybe not "the final", but at least the ultimate so far, Elvis Sessions III is a must for every Elvis fan. Next to the "look up"-function, it's just fun to browse and read. It is a love worth waiting for… so all postponing is forgiven!