Raised On Elvis! Elvis! Elvis!
Book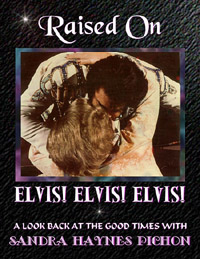 Released: 2004/08
by Apex Publishing
ElvisNews review
This book by life long fan Sandi Pichon has just been issued by Apex Publishing. Is it a worthy addition to the huge library of "Elvis books"?

Design

The nearly 200 pages are printed on high quality glossy paper. This is especially interesting because of the fair amount of pictures presented in the book. The chapter and paragraph division is clear, which makes the book good to read.

Content

To be honest we were not really interested in the book beforehand. A book about a fan, so what? It's Elvis that counts… The foreword by Kathy Westmoreland presents the bone cancer story as a fact without any doubt or restraint, reason to stop reading immediately to us. Thumbing through the book searching for pictures we found ourselves reading anecdotes soon, forgetting about the pictures. Especially the concert stories (like the Memphis one) were interesting to read, making us green of jealousy for not having experienced it ourselves.

The pictures of Elvis decorating the book have quite some "unseen ones" among them. Great live shots and nice candids make this book quite interesting.
Unfortunately the book could have used a good proofreader. Quite some irritating mistakes, being it print errors or other faults, give this otherwise nice addition to the bookshelf an unnecessary bad taste. The first concert in Asheville 1975 wasn't on July 2nd, the tour that never was wouldn't have started on August 16, the flipside of "My Way" wasn't "Can't Help Falling In Love", to name just a few.

Conclusion

The anecdotes and pictures make the book worthwhile. Unfortunately it misses the finishing touch and could have been a bit better with a little more effort. Still it proofs that not every American fan wears (dark) pink glasses, although the comments on the more critical fans are not really necessary ;-).

You can get your personally signed copy by mailing the author at spichon@charter.net.