The Elvis Archives
Book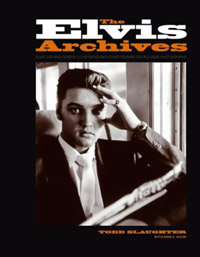 Released: 2004/11/15
by Omnibus Press.
The book shows that Elvis was not the recluse as often reported. The text is a straight historical biography, without comment or rumour. With around 150 photographs.
ElvisNews review
Set for release November 19th is the book "The Elvis Archives" written and compiled by British fan club president Todd Slaughter with international Elvis expert Anne E. Nixon. How deep did they dig in the Elvis Archives.

Design

This book is a real coffee table book, it is big and glossy. The paper quality is good and the design tasty. The design is used consequently throughout the entire book.

Content

According to the press information "The Elvis Archives" presents the "documentary truth about Elvis, a truth that has so often been forgotten amid the deluge of hero-worship, criticism and myth-making of the past 30 years". We must say the authors did just that.

The book tells the complete story of Elvis in a positive way, looking back with the knowledge we have now. The book is obviously written by people who have been there and experienced it. The authors dug into the Elvis archives and their own experiences telling the Elvis story in a illustrative way. This makes it an easy to read and very enjoyable book.

"The Elvis Archives" shows Elvis in the company of some of the 20th century's most famous people: pop stars, politicians, potentates and presidents. The pictures are all black and white with a colored layer (sepia-tinted, or blue-tinted monochromes) for unity in looks. All the images show a good looking Elvis, promoting our man very well. There are a lot of great pictures in this book, but unfortunately no new pictures (to us), but this book is obviously released for the mass market (raising money for charity, so get your copy!).

The CDR that comes with this edition features several interviews with Elvis in Canada, a bit strange regarding the content of the book. A selection from various years of Elvis' life would be more logical.

Conclusion

This is one of those books that you can enjoy by just browsing through it. Well written and showing a good (looking) Elvis. A good book for new fans who want to learn about Elvis easily and in a pleasant way.

You can win a copy of this book on ElvisNews.com next week.