Such Vicious Minds
Book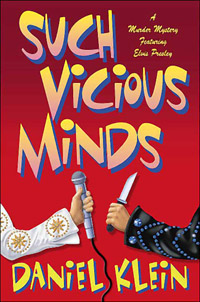 Released: 2004/08/01
by St. Martin's Minotaur
The King of Rock'n'Roll is back in the building for his fourth turn as sleuth in this highly acclaimed mystery series.
ElvisNews review
The forth Elvis Murder Mystery is out, will Elvis solve it this time?

Design

This fourth volume has the same design as the previous three volumes, an original, somewhat familiar title and just that white sleeve with rhinestones that we know.

Story

In this fourth novel Daniel Klein takes Elvis on a Hollywood-style ride, bigger, faster and more scandalous. Elvis is doing what he loves best again, playing the detective with a famous director as his partner.

In this, what could be a B-movie Hollywood script, Elvis is forced to clean up his act. Not only because of the moralist, but also because of his - wannabe - fans doing everything for a night with "The King" and gathering evidence of that to prove it.
But was it the real Elvis they partied with or ... well, you have to find that out yourself!

Again a fun to read novel by Daniel Klein, with fun more underlined than before. Where especially the first two novels were nice detectives and more or less believable stories, this one is getting a bit over the top. Still the way of writing and the pace of the story make it a good read. Now let's just hope it won't be the last one.