It Happened At The World's Fair
Video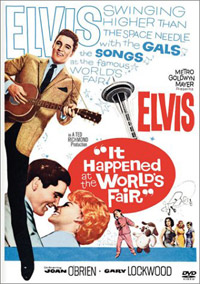 Released: 2004/08/03
by Warner Brothers
ElvisNews review
A verdict in case number 4982 (It Happened At The World's Fair) by Judge Bill Treadway from DVD Verdict.

The Charge

Elvis swinging higher than the Space Needle with the gals and the songs at the famous World's Fair!

Opening Statement

After showing his acting chops in such films as Flaming Star, Wild in the Country, and Kid Galahad, Elvis found himself reluctantly involved with a string of musical comedies at the urging of manager Colonel Tom Parker. Girls! Girls! Girls!, Follow That Dream, and Fun in Acapulco, while entertaining, marked the path Elvis would soon follow.

It Happened at the World's Fair is often lumped with the latter cycle of Presley films, but as you will soon discover, that is unfair. It's actually one of the better Presley vehicles of the era, with excellent use of location filming, some good songs, and good acting.

Facts of the Case

Pilot Mike Edwards (Presley) finds himself in a dilemma. His partner and friend Danny (Gary Lockwood, 2001: A Space Odyssey) has gambled away the money Mike had set aside to pay their debts. Since they now have no money and a $1,200 debt, the local sheriff takes possession of their beloved plane, Bessie. If they can't come up with the money in 12 days, Bessie will be auctioned off to the highest bidder.

Mike and Danny become reluctant hitchhikers, looking for a lift to anywhere. They are picked up by Asian apple farmer Walter Ling (Kam Tong, Across the Pacific, Soldier of Fortune) and his niece Sue-Lin (Vicky Tiu, impressive in her sole film outing). They find themselves in Seattle, location of the 1962 World's Fair. When the uncle is called way on business, Danny persuades Mike to take the guy's niece to the World's Fair. It is during a visit to the doctor that Mike falls for Diane Warren (Joan O'Brien, Operation Petticoat), an attractive but stubborn nurse who resists most of Mike's advances.

Complications arise. Walter suddenly disappears, leaving Mike with Sue-Lin. Diane discovers what has happened and thinks the Welfare Board should know about it. Then there is that mysterious nightfall plane delivery for Mike and Danny's pal Vince (H.M. Wynant, Days of Our Lives)…

The Evidence

It Happened at the World's Fair is anything but standard. Rather than being one of the swinging Elvis comedies of before and after, Fair is more of a character piece. The screenplay by Si Rose and Seaman Jacobs delves deep into the people at the fair and makes them three-dimensional humans rather than cardboard cutouts. Instead of being the standard, one-dimensional types audiences have grown accustomed to, these are real people one can get emotionally involved with over the course of the film. Fair may not be a heavily plotted film, but there is a genuine feel for character and emotion that few Elvis pictures showed before.

What really won me over with It Happened at the World's Fair was the heart this film exudes. This is one of the nicest stories Presley was ever involved with. There is a sweet tenderness in Presley's scenes with the little girl Sue-Lin that will melt even the hardest hearts. The romance between Presley and the stubborn Diane is emotionally involving since it accurately reflects the minefield that is love. There is also gentle, sparkling comedy in the scenes featuring the raffish gambler Danny and his mark/landlord Barney (Guy Raymond)

One also gets a genuine feel for the World's Fair in this film. Instead of recreating the location on one of MGM's vast soundstages, director Norman Taurog actually shot on location in the 1962 Seattle World's Fair. The result is an authenticity that most studio pictures did not have at the time. Of course, not all of the film was shot on location, but I'm referring to the magnificent exteriors. They're all captured beautifully in Panavision by four-time Academy Award-winning cinematographer Joseph Ruttenberg. He and Taurog avoid using fancy camera moves and assorted gimmicks. Instead, they take the simple approach of using proper lighting and simply pointing the camera to shoot.

A common complaint regarding many Presley features is the lack of good songs within the film. We can dismiss that complaint for the majority of the Elvis films released recently on DVD, since Presley's wonderful voice can make any song sound good, but Fair actually features some of the strongest and most memorable tunes ever heard in a Presley film. Even the most curmudgeonly person will have a hard time resisting the lively "Take Me to the Fair," the bouncy "Cotton Candy Land," and the lovely "I'm Falling in Love Tonight." Let's not forget the smash hit "One Broken Heart for Sale," certified gold and ranking among the best Elvis tunes of all time.

The performances are all marvelous. Each performer has a firm grasp of his or her character. Presley turns in his most easygoing, mellow performance as the likable Mike Edwards. Gary Lockwood makes an engaging sidekick, mostly there for laughs but getting every one of them. Some have found Joan O'Brien cold as Presley's love interest, but I felt she had a nice feel for the resistant love interest in this film. H.W. Wynant makes a chilly villain, and onetime child actress Vicky Tiu is exceptional as the adorable Sue-Lin.
The young boy who kicks Elvis in the shins is none other than Kurt Russell, who would go on to play Elvis in the 1979 John Carpenter biopic Elvis as well as an Elvis impersonator in 3000 Miles to Graceland. Fair was his film debut.

Warner Bros. presents It Happened at the World's Fair in a 2.40:1 anamorphic widescreen transfer. They have done a fine job restoring this film, as I have never seen it look as beautiful as it does here. While there are some blemishes such as odd specks and scratches that will never completely disappear, as well as some light grain, I can forgive these flaws. Since Fair has been aired in cropped, faded, and downright hideous prints on broadcast television over the years, seeing it look so crisp and clean was extremely exciting. The colors look so vivid and real that you will need sunglasses to deflect the sheen.

Audio is presented in the usual Dolby Digital 1.0 mono mix Warner utilizes for their barebones catalog items. It sounds strong and vibrant, as if you were on location during actual filming. The music is the most important aspect of Fair, and Warner has done a great job breathing life into these tracks. The music sounds so bold you will wonder if an actual mint-condition Elvis LP is playing in the background; it is that good.

The only extras offered here are theatrical trailers for It Happened at the World's Fair, Jailhouse Rock, Harum Scarum, Viva Las Vegas, and the underrated comedy Tickle Me (which was written by Elwood Ullman and Edward Bernds, who wrote many Three Stooges films). All are presented in anamorphic widescreen.

Another note before I move on: If you look at the keep case, you are led to believe that subtitles are only offered in English, French, and Spanish. That is not the case. Subtitles are also offered in Bahasa, Chinese, Korean, Portuguese, Spanish, and Thai. It is sad that Warner Bros fails to make mention of these subtitle offerings.

Closing Statement

It Happened at the World's Fair is one of the best films the King ever made and you'd be foolish to continue to overlook it. Even non-fans will enjoy the wit and charm of this film. Warner Bros. has made it priced to own, with a $14.95 price tag. I do recommend it as a rental. If you cannot locate a copy through the video outlets, then check it out when Turner Classic Movies airs it. It is worth the time and effort.

The Verdict

Not guilty!