Elvis, 50 Years In Show Business
Video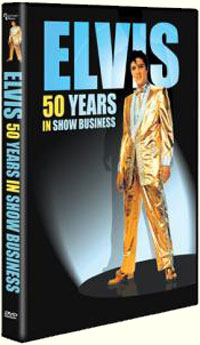 by Passport Video
On July 5th, 1954, Elvis Presley stepped into Sun Studios in Memphis, Tennessee and changed the world forever. In this 50th Anniversary tribute, stars reflect on Elvis' extraordinary talent and his enduring popularity.
ElvisNews review
There you go! The title of this CD pretty much says it all; "Calling Elvis" is a talking album containing all ten known to date telephone conversations of Elvis Presley. The CD also has a few musical surprises, but I'll get to that later.

Design

Let me start off by saying that the packaging of this product is outstanding. It is well designed and oozes quality. The overall sound is very good considering the source. In fact, most previously released conversations sound slightly better here!

Content

What makes the content of this interview CD strikingly different from other interview CD's, is that Elvis is much more personal during the telephone interviews than most of the known face-to-face ones. Without trying to be too psychological about this (I shan't be that ambitious!), it is obvious that Elvis is much more comfortable talking about private stuff with strangers on the phone – not having to see the interviewer's reaction to his comments – than face-to-face.

However, the problem with some of these telephone interviews is the opening and the closing of the conversation ("How are you" "I'm fine, how are you?" and "It's been a pleasure talking to you" "Bye, bye"). With the shorter interviews, this takes up a lot of time without going into anything interesting. It basically is just "small talk".

Besides eight telephone interviews, two non-interview telephone conversations are included. They are private calls, taped without Elvis knowing about it. The first one is with a "Memphis Mafia" groupie, called Arlene Cogan. She is totally in awe with Presley, but he doesn't seem to have much interest in talking to her as he is polite but (extremely) short with his answers. Here we get to hear the "how are you"-talk twice, ouch!

The 1971 conversation between Elvis and the Denver police officer Ron Petrafeso would be an extreme violation of Elvis' privacy if he were still alive. But since he isn't, I guess one could call it "historical documentation". Still I feel a little uncomfortable listening to this, as he talks about his glaucoma…

The disc also contains four bonus tracks. The first one is a previously unreleased Canadian radiobroadcast from April 1957. It has reporter Bill Beaty describing Elvis' concerts at the Maple Leaf Gardens in Toronto. It includes a tiny fragment of "Hound Dog"! If you listen closely – and you have to because of all the screaming – you can hear Elvis sing "you ain't never caught a rabbit and you ain't no friend of mine". Cool stuff!

There's also the recently discovered 1975 Harold Johnson-interview, which has Elvis talking about an American Football game. Next is an on stage conversation between Elvis and the audience, recently released on FTD's "Dinner At Eight", but this time you actually get to hear the people in the audience. A nice find, but not really all that interesting. Closing the CD is an 18+ minute recording of a tour end-party from July 1976. It has producer Felton Jarvis imitating Elvis, while being "interviewed" by comedian Jackie Kahane. Very funny, but be careful though: this one has a lot of strong language.

Now don't turn off the CD-player yet, as there is more to come. After a couple of seconds of silence you get to hear two tracks recorded at the American Sound Studios in January of 1969. The first track is "Poor Man's Gold", including the 9 seconds of lead vocals that Elvis put on tape. The second track is a shot but sweet instrumental blues jam, which was sort of a warm-up for the band before starting the session. Listen to that wonderful lead guitar by Reggie Young and the jazzy organ by Bobby Emmons!

Conclusion

To me the snippet of "Hound Dog" and the blues jam alone would have been worth the money. But if you're a fan of talking albums, this one is definitely for you!