Follow That Dream
Video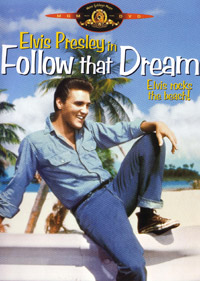 Released: 2004/04/20
by MGM
The film follows the family of Toby Kwimper ( Elvis Presley ) traveling in Florida. A vagabond clan who are headed by Toby's father ( Arthur O'Connell ) who gives a great performance, and revolves around the family squatting on Florida highway land and in the end, Toby's earthy wits and family resolve winning praise and their new land and home.
ElvisNews review
Thanks to a distortion in the television signal we had a good reason to put on "Follow That Dream". A movie in which breaking down something (the car) is the start of this Elvis "vehicle".

Design

The cover looks good, Elvis is bit "chubby" we would have used the picture on the back for the front, or better, the original cover art. They might have included a booklet, but on the other hand, with no extras but the theatrical trailer, there isn't much to put in it anyway (besides the chapters).

Content

The story of "Follow That Dream" is simple; Elvis stars as an innocent country boy whose family moves to the Florida coast forced to set up a homestead when the car breaks down and a land commissioner treats them badly. Songs include the happy 'Follow That Dream', 'What A Wonderful Life', 'I'm Not The Marrying Kind' and 'Sound Advice'. It is kind of a modern (well back then) rendition of conquering the "wild west", but in sunny Florida by the waterfront like most Elvis' movies.

The quality of the movie is good; it is presented on a two sided disc on both the standard television size and in letterbox format. Actually there isn't so much to add to this review besides the remark that we again get no (significant) extras, just the old theatrical trailer as usual.

Conclusion

An entertaining movie, although we don't prefer Elvis playing a "dummy" (who saves the day of course), but a good addition to the collection replacing the old VHS. Only a few movies left to collect.