Memories – On The Road With Elvis And John Wilkinson
Book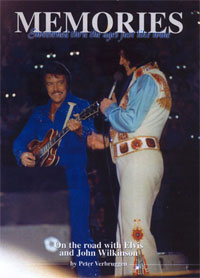 Released: 2004/01/10
by Elvis Unlimited
Written by John Wilkinson's biggest fan and professional journalist, Peter Verbruggen, is a recollection of memories of John Wilkinson's years with Elvis.
ElvisNews review
Written by John Wilkinson's biggest fan and professional journalist, Peter Verbruggen, is a recollection of memories of John's years with Elvis.

The book has John Wilkinson's signature all over it, if only for the opening of the book with the lyrics of his signature song, "Early Morning Rain". Although John joined Elvis in 1969, Elvis pops up early in the book, the first meeting of John with Elvis took place when John was only nine or ten years old and Elvis performed in John's hometown Springfield.

From there John's life as a musician leads us through the late fifties and sixties on a musical trip ending in the seventies with Elvis. The memories on the pages are all positive (sweetened thru the ages), but also realistically and deal with the problems Elvis had and how the people surrounding them coped with it, all in their own way. The image of "life on the road with Elvis" we get from the book is the same as we got when John told these stories to us personally.

What makes this book extra interesting is the amount of memorabilia. Besides newspaper clippings, song lineups and rehearsal schedules we get great photo's of Elvis (from the early fifties and of course on stage with John Wilkinson) and we see a lot of candids and publicity shots of John himself painting a good picture of being a musician in the sixties and seventies.

Most interesting however is the large number of official documents regarding John's business relation with Elvis, or should we say Colonel Tom Parkers "Elvis Presley Show". These personal contracts, thank you notes and other official documents have not been published before. It gives a nice insight into the business side of the Elvis Presley road show.

You can clearly tell Peter Verbruggen is a professional journalist; the text is written very well and reads pleasantly, presenting the memories of John in a nice way. The chronology jumps a bit through time every now and then, but that is what happens when you start reminiscing good memories, new things come to mind.

CD

the book comes with a bonus CD containg John's own single releases and two hidden bonus tracks in which you can hear two live recordings of John performing his signature song "Early Morning Rain" on stage with Elvis and the TCB band. But on these versions he does not only play the guitar, but also sings them.

Conclusion

The memories which found their way to the pages of this book paint a realistic picture of life on the road with Elvis. Combined with the original documents and illustrations this book is a good addition to the many biographies of Elvis which tell the story from Elvis' point of view. This book is clearly made with love, not just for the money because someone knew Elvis. But that was to be expected from the man who stood in the back at all of Elvis live performances.