Milton Berle Show - The Lost Elvis
Video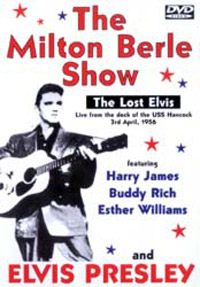 Released: 2003/04/25
by BMG
Recorded on the 3rd April, 1956 on the deck of the USS Hancock, this previously lost performance features a young Elvis Presley performing 'Shake, Rattle And Roll', 'Heartbreak Hotel' and 'Blue Suede Shoes' accompanied by Scotty Moore, Bill Black and D.J.
ElvisNews review
Released on DVD is the Milton Berle Show from April 3, 1956

Design

The design of this DVD is very basic. It is a copy of the old video version. It looks like an old fifties poster. The navigation menu is basic too, select, click and play.

Content

This Milton Berle show was Elvis' first Milton Berle Show, and a step up from the Dorsey shows he previously did. This show was broadcasted live from the deck of the U.S.A. Aircraft Carrier USS Hancock, docked at the naval Air base in San Diego, California.

Of course we all know the performance of Elvis on this show, and the strange sketch he and Milton Berle did in which Milton played Elvis twin brother. Elvis played "Shake Rattle And Roll", "Heartbreak Hotel" and "Blue Suede Shoes".

What makes this DVD worth buying it? As we are familiar with the clips of Elvis performing his songs, watching them as part of a complete show put them in the right perspective. Now you not only see Elvis, but you see a fifties television show with Ester Williams (yes in a bathing suit for all those sailors) and Milton Berle's sidekick Arnold Stang.

See one of the fifties most popular television show with fifties humor, fifties entertainment and fifties commercials. Elvis is simply part of the show, doing what modern artist do on current television shows to sell their records. Fortunately Milton Berle helps him out saying "Keep buying them records" several times.

Conclusion

Just like with the Frank Sinatra's "Welcome Home Elvis" television show this show puts Elvis performances in the right fifties environment painting a good picture of how America got to know Elvis.