Elvis Presley: A Penguin Life
Book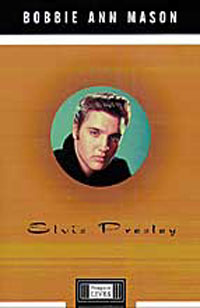 Released: 2002/12/20
by BMG
Biography By Bobbie Ann Mason
ElvisNews review
Consider Bobbie Ann Mason's just-published appreciation, Elvis Presley (Penguin, $19.95), a delectable appetizer. You might call it a deep-fried tapas because it effectively stimulates a hunger for Peter Guralnick's definitive, two-volume Presley biography, Last Train to Memphis and Careless Love. In her book, Mason credits Guralnick with rescuing Presley's reputation.

The author of the much-praised In Country, Clear Springs and Shiloh and Other Stories, Mason captures her fellow Southerner as part of the Penguin Lives series. A number of book publishers have discovered that many readers enjoy a book that is longer than a magazine article but does not immerse time-pressed Americans in a full-scale history or biography. Instead, these slim, elegant volumes match interesting writers with compelling topics. They let readers get their literary feet wet before committing to a full plunge.

A writer-in-residence at the University of Kentucky, Mason is an excellent choice. (I will not spoil the gentle surprise she springs upon the reader in the acknowledgements at the book's end.) Born in Mayfield, Ky., where her father ran a dairy farm, Mason listened with her family to Presley at the very start of his career. She writes sympathetically about Presley but takes him seriously as a man, a musician and as a global cultural icon. (Many of the books published this summer marking Presley's death 25 years ago featured photos and memorabilia for the established fan.)

Mason probes the reasons that for so many years and for so many educated people, Presley languished as ''a nervous national joke . . . a hillbilly voodoo doll,'' fat and ridiculous in his spangled jumpsuits.

Mason, however, understands the struggling country people Presley sprang from. She is not fooled by Presley's soft good manners; nor does she fall into the Yankee mind-set of assuming that all white Southern men were equal. ''Elvis was born into the mind-set of poverty: the deference toward authority and the insolent snarl underlying it, the feeling of inferiority, the insecurity about where the next meal was coming from. Tupelo was a town run by a few old families. . . . The subtle gradations of status in a small town like Tupelo -- with its fine houses downtown and its fringe of outcasts -- were as particular as the social nuances in a Jane Austen novel.'' (Mason is such a good writer, one has to resist the urge to quote her. Endlessly.)

The family struggled to avoid being dismissed as ''white trash,'' but when Presley's father, Vernon, and uncle were sent to Parchman Prison Farm for altering a check for a hog, it was a major setback. Mason believes that Elvis -- then 3 -- and his mother, Gladys, grew closer during the 10-hour bus rides each weekend to visit Vernon.

Mason does not gloss over the drugs, the underage Priscilla, the weak performances at career's end, the guns, the complicated bond with Colonel Tom Parker. But she conveys why Presley, in that black leather suit in the 1968 TV comeback special, defines eternal, untamed male sensuality yet could sing the spirituals he loved like an angel.