Elvis And Buddy Linked Lives
Book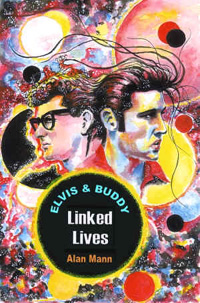 Released: 2002/08
by BMG
Interesting and entertaining book about two immortal artists.
ElvisNews review
Another book in the huge pile of book released around the 25th anniversary of Elvis' passing, is "Elvis And Buddy – Linked Lives", by Alan Mann. Mann, Rock'n'Roll expert – according to the cover text of the book – and author of "The A-Z of Buddy Holly". The book is published by Music Mentor Books, York (UK).
Although a lot of Elvis fans appear to have blinkers, there are some that are interested in other artists. We regard ourselves belonging to the second group, and were anxious to see how the author linked these two immortal artists. Besides, earlier books connecting Elvis to other famous people, like e.g. "Elvis Presley, Richard Nixon And The American Dream" or "Double Trouble: Bill Clinton and Elvis Presley in a Land of No Alternatives", turned out to be very interesting.

Design

The cover is showing a painting of Elvis and Buddy. To everyone his or her taste, but we would have preferred their pictures, this kind of art is wasted on us. The 160 pages of the book are well designed, with clear division into chapters and paragraphs, decorated with fitting images. After each chapter is a "musical interlude", in which the author names a couple of songs and point out their common denominator, a smart and interesting move, in our opinion.
We can't judge the ones of Buddy Holly, but most of Elvis' pictures are well known, but there are some less familiar ones used. There is only one picture that is supposed to have both of them captured, and surprisingly Buddy Holly is unrecognisable, since he doesn't seem to be interested in Elvis at all.

Content

The book is settled around a remark of Elvis in a letter after Buddy's passing, in which Elvis noted that he never met Buddy personally. The author shows that Elvis was wrong, and that they met several times in 1955, during Elvis' visits to Lubbock, Texas. Alan Mann also underlines that it isn't very strange that Elvis didn't put a link between the youngster who was just working on the road to fame a few steps behind him and the guy that had several hit records in a very short time and had recently crashed with his plane.
The interesting information is brought in a pleasant style, never gets boring, but stays entertaining from start to finish. The final chapter in which some "paranormal" aspects are put into the spotlight may go to far for some, but they only take up 11 pages. An extensive glossary and index give the book a great finishing touch.

Conclusion

We can't say anything else then "congratulations" to the author. The book is not only interesting to fans, being it Elvis's or Buddy's, but in our opinion it deserves a much larger audience. Anyone who is interested in Rock'n'Roll, the 50's or music in general should give it a try.