The Ways Of Elvis - Lessons From His Life
Book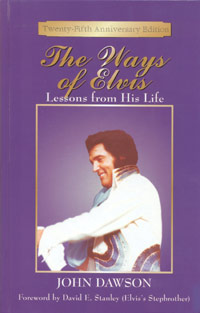 Released: 2002/07
by Tapestry Press
Quotes listed by subject.
ElvisNews review
Recently we received the 25th Anniversary Edition of "The Ways of Elvis – Lessons from His Life" by John Dawson. The author is a long time fan, president of the Take Care of Business Elvis Style fanclub in Texas and a professional hypnotist.

Design

The design of the cover is not our piece of cake, but that's mainly a matter of taste.
The lay-out of this hardcover book is very clear. Quotes and notes by the author are very recognizable, so the reader has a good overview. There are not too many pictures included, but the quality is pretty good. Most of the pictures are probably from the same Fort Worth show in 1974. We wouldn't be surprised when "G.I. Blues" is the author's favourite album, since every chapter start is decorated with the cover of the album.

Content

After the foreword by David Stanley, Elvis' stepbrother, the reader gets some acknowledgements, an enormous disclaimer and a short piece about the author before getting to the actual content of the book. That content is a collection of quotes from Elvis, taken from interviews, home recordings and concerts. Of course such a collection was available in Jerry Osborne's "Word for Word", so what is the difference? Not much, except for where Osborne put the quotes in chronological order and tried to be as complete as possible, this book is ordered by subject. It is suggested that people might learn a lesson from it.
Chapters like "All That I Am" (Elvis on himself), "That's All Right, Mama" (Elvis on family) etc. give a nice interpretation of Elvis' quotes on this subject. Of course this way of combining them can be a little bit subjective, but reading the book we think the author did a pretty good job.
We can't help but wonder why books always seem to have to have mistakes, especially such noticeable like obviously wrong dating of pictures. This book has its one on page 15, where the picture is not from 1977 as mentioned.

Conclusion

Although we doubt that anyone can learn a lesson from this book – that is too much honour in our opinion – it gives an interesting look on the man Elvis Presley and his views on a variety of subjects. The book is not an essential, but certainly worth the time to read it.

Ruthie
wrote on
August 27, 2007
I am not surprised the book has mistakes. The biggest mistake was having a foreward by David Stanley. I can't believe a fan club president did that! Oh, well, it's hard to top the book by Jerry Osborne anyways.
Rating: 3 / 5