Rare Momentes With The King - Elvis The King
Video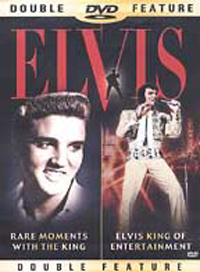 Released: 2002/08/27
by Good Times Home Video
Two old documentaries rereleased on DVD with a lot of rare original footage.
ElvisNews review
Rare Moments With The King

This Good Times two on one DVD combines two rather hard to get videos on one DVD. "Rare Moments With The King", is the shorter of the two,clocking in at 56 minutes. It is not as good as the second one and in many cases uses the same footage, but in lesser quality. It also has a
poor ending to it. Up until Elvis' army release is only 25 minutes on this documentary and there are some poor quality later interviews such as the 1970 Astrodome interview and the Madison Square Garden interview
which is rather choppy. The two Aloha interviews are also included, but in poor quality.

Elvis King Of Entertainment

Now onto the better of the two. "Elvis The King Of
Entertainment". The first thing I noticed about this one is that the 50's live clips are in pretty decent quality. There are some different ones used on the two documentaries. On this one, the Dorsey shows, The
Milton Berle Shows and The Steve Allen Shows are all pretty good quality. It combines period photos and film clips from the early years along with photos of Elvis. There is a rare color film clip of Elvis at the Mississippi State Fair in 1956. There are clips used of people like Eddie Arnold, Arthur Godfrey, Pat Boone, James Dean and others to illustrate the times.

There is also added dramatization to some of Elvis' film clips to make them more educational. I even noticed a small
color film clip that I had not seen on any other documentary before. There are clips of one of Milton Berles' early color shows. It is too bad that Elvis' appearance did not survive in color. This footage of the
Berle shows with Elvis are in as good of a quality as I had seen. There are complete clips of some of the skits Elvis was in and a good review of his 1956 Vegas appearance. Then onto Steve Allen, this is in as good
of quality as I had seen too. And the Hy Gardner interview has a few extra clips besides what we usually see.

There are parts of 15 movie trailers, some live footage from Kentucky in 1956 at the Armery intertwined with Dorsey footage for dramatic effect and sound and clips
of Elvis live in his gold suite. My home town of Portland, Oregon interview in 1957 is correctly labeled here. It wasn't in other documentaries I have seen. It also has a short clip of Judy Tyler on the Howdy Doody show just before her Jailhouse Rock appearance. There are
other period clips to give you an idea of the times. Both feature his early 60's cadillac tours that were touring the country.

This documentary has some great wedding film footage and some very interesting live shots, possibly from Madison Square Garden. It also covers his two Aloha interviews, his death, and later, the Elvis stamp presentation and Lisa Maries' marriage to Michael Jackson.
This documentary covers the highlights of Elvis' life pretty well in pretty
good quality. It also seems rather well thought out and has a good ending.
ext_mnx
wrote on
September 08, 2007
Excellent !
Rating: 5 / 5
Another photo cover with Elvis head developed backwards. Stupid is as stupid does.
Rating: 1 / 5