Elvis: A Radio History 1945 - 1955
Book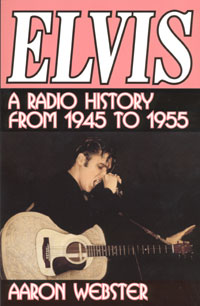 Released: 2002/08
by Republic of Texas
ElvisNews review
The design of the book is good. It has a clear lay-out and is very readable regarding printing. The text is decorated with tons of pictures of Elvis (some of them rare), buildings and other sites, and "artifacts", like singles, original newspaper articles and so on.
The writing style is enjoyable, very easy to read but certainly not 'childish'.


So far the more general remarks, since it is the content that counts. We can say that the content is far above par. The book starts with a foreword by Jaqueline Owens, female DJ in the 50's. She states correctly in our opinion that it was Radio that made Elvis in the first place, and not television (which also helped a lot, but it wasn't the first step).


In the author's introduction he describes Elvis wishing to have a second chance in 1975, meaning he wanted to do the 50's all over again. A nice lead to the real start of the book, 1945, when Elvis made his first public performance in Tupelo, at the Mississippi-Alabama State Fair. The author starts with describing what other people where doing around that time. It won't surprise you that the people the author is telling about are all involved in Elvis' early career. This first real chapter draws the line for the book immediately: the author manages to describe a picture that you can place very well.


Of course the book is focusing on Elvis' (radio) career, but in the mean time the reader gets a lot of information about the time itself, the artists that where popular those days, the radio shows that were running and so on.


One of the most interesting chapters it the one about the "Pied Piper From Cleveland", telling us that the movie still exists and is in a vault in Europe now... we can only hope it will show up one day.


Concluding we can only say that it was a pretty long time since we read a book about Elvis as fast as this one, hardly being able to put it away. Not surprisingly we recommend it to anyone who is interested in the rise of Elvis Presley.