Day By Day - The Definitive Record Of His Life And Music
Book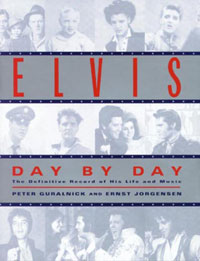 Released: 1999/10
by Ballentine
Great document overviewing Elvis' life - day by day.
ElvisNews review
Peter Guralnick and Ernst Jorgensen are both known for their previous Elvis-related works. Peter Guralnick as write of the "ultimate" (so far) Elvis biography in two enormous parts: Last Train to Memphis, which covers Elvis life until his army-service, and Careless Love, which covers the rest of Elvis' life. Ernst Jorgensen is known of course for his work as producer for BMG and his book Elvis Presley: A Life In Music, covering the complete recordings of Elvis.

Such a detailed book as this is hard to review. Who are we to say it is not complete enough or something like that? It is the best we have so far. The writers themselves give a lot credits to other writers, like Lee Cotton, whose "All Shook Up" is the same kind of book.

Day by Day is very detailed and as the title suggests is indeed covering Elvis' life almost day by day. Besides all the facts the pictures must be mentioned. There are lots of them available in the book and many of them very rare. It looks like they have problems to date a lot of the picture exactly. Even with those pictures of which the date is pretty certain to the fans. Maybe "the fans" are wrong, or the writers didn't want to take any risks. But indeed, that is about the only remark we can make about this great work. Together with the previous work of these authors it gives a pretty complete overview on the man and his work.

We think you have to buy this. The real fanatics to have a great addition and some extra details, while for "newbies" this book is an ideal starter.