Wild In The Country
Video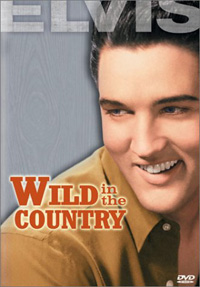 Released: 2002/08/13
by Fox
Elvis Presley stars as a rebellious backwoods delinquent gifted with a rare literary talent. Hope Lange is the sympathetic psychiatrist who tries to help him, while Tuesday Weld and Millie Perkins round out an all-star cast as his seductive cousin and childhood sweetheart. This is Elvis at his untamed bad-boy best!
ElvisNews review
For the 25th anniversary of Elvis death, Fox resurrected three classic Elvis films, 'Wild In The Country', 'Flaming Star' and Elvis' very first movie, 'Love Me Tender'. Digitally re-mastered and artfully restored, these movies were released for the first time ever on DVD.
Design

The DVD is presented with a new cover with just a movie shot of Elvis. This matches the release of two other classics, 'Love me Tender' and 'Flaming Star' in this series. The inside contains an overview of the chapters, presented in the same style as the movie.

The navigation menu is clear. It offers chapter, audio and subtitle (English Dolby and Spanish Mono) options all with a different photo. As extra feature this disc contains the theatrical trailers for 'Flaming Star' and 'Love me Tender'.

Content


The story: Glenn Talbot (Elvis), is a country boy with a problem temper and gifted with a literary talent. After one too many fights with his brother, the court makes him a ward of his uncle. He goes into therapy with the attractive Irene (Hope Lange). But their so called 'patient-doctor' relationship is misinterpreted in their small home town. The two spend a platonic night in the same room in a motel, but no one is believing it was innocent. While she is trying to help him Tuesday Weld and Millie Perkins round out an all-star cast as his seductive cousin and childhood sweetheart. Between the singing and carousing and fist fights, it still looks like a happy resolution looms large on the horizon of this typical Presley storyline directed by Philip Dunne.

The remastered image quality is great and since the film is presented in anamorphic widescreen (aspect ratio 2.35:1) this classic looks great on your wide screen television.

Conclusion

Finally these classic Elvis movies were released on the digital format. Fox really paid attention to the presentation of the outside and the movie itself. Get this one in your collection.

I love your site. You are doing a great job. Do you know if Kissin Cousins will be on DVD anytime soon?
Rating: 3 / 5
Love songs and the expert from the bible.
Rating: 5 / 5