Flaming Star
Video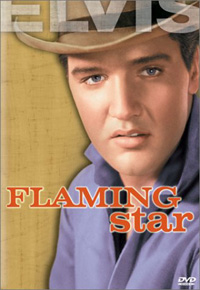 Released: 2002/08
by Fox
Finally this classic Elvis movie was released on the digital format. Elvis Presley plays Pacer Burton, the son of a Kiowa mother and a Texas rancher father. Along with his half-brother, Clint, the four of them live a typical life on the Texas frontier. Life soon becomes anything but typical when a nearby tribe of Kiowa begin raiding neighboring homesteads. Pacer soon finds himself caught between the two worlds, part of both but belonging to neither.
ElvisNews review
For the 25th anniversary of Elvis death, Fox resurrected three classic Elvis films, 'Flaming Star', 'Wild in the Country', and his very first movie, 'Love Me Tender'. Digitally re-mastered and artfully restored, these movies were released for the first time ever on DVD.
Design

The DVD is presented with a new cover with just a movie shot of Elvis. This matches the release of two other classics, 'Love me Tender' and 'Wild In The Country'. The inside contains an overview of the chapters, presented in the same style as the movie.

The navigation menu is clear. It offers chapter, audio and subtitle (English Dolby and Spanish Mono) options all with a different photo. As extra feature this disc contains the theatrical trailer and a Portuguese version for 'Flaming Star' and the trailers for 'Love me Tender' and 'Wild In The Country'.

Content

This movie is the well known story of an half-breed Indian (played by Elvis) who finds his loyalties divided when his mother's tribe goes on the warpath against his father's folk, the Texas frontiersmen. The story is based on a novel by Clair Huffaker.

The remastered image quality is great and since the film is presented in anamorphic widescreen (aspect ratio 2.35:1) this classic looks great on your wide screen television.

Conclusion

Finally these classic Elvis movies were released on the digital format. Fox really paid attention to the presentation of the outside and the movie itself. Get this one in your collection.