Elvis For Everyone
Book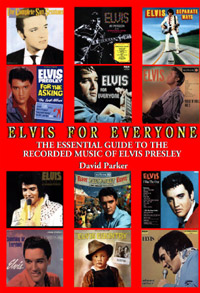 Released: 2002/07
by Abstract Sounds
Pretty complete discography, including (re-releases on) CD.
ElvisNews review
Design

Thanks too the publisher we could review a preview copy of the book from CD. The book will contain 196 pages on a big format. The content is presented in various sections chronologically on white pages.

Content

The BMG section contain covers of the the official (re)-releases, the track listing and sometimes recording information. Most images are CD covers, but we also get a few singles and original L.P. Covers. Also includes are some promo's.

The Greatest Hits Collections is mostly an overview of covers. Up next is a section with the Follow That Dream Collectors followed by the compilations albums which is a nice overview including some fan club releases.

Interesting is the overview of the bootleg releases which covers the essential bootlegs releases in various sections, studio, movie and live / rehearsals. We get the most important releases and labels and also a small overview of various Louisiana Hayride Recordings / Interviews releases.

Conclusion

The books looks like a pretty complete overview of Elvis' releases, both official and unofficial. Most of the content are plain covers with titles and year of release. The lack of additional information makes this a discography book which you won't use too often. It's the additional information won a release which make an interesting read. This book is more a picture book.

A big pro of the book is the addition of the unofficial Elvis releases since there's not too much information available on these releases.