Loving You
Video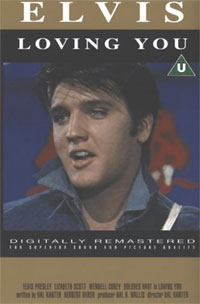 Released: 1999
by NBC Home Video
First released in the cinema in 1957, the movie showed Elvis had genuine acting talent with his gritty and emotional portrayal of a simple country boy catapulted to stardom.
ElvisNews review
Design

This package comes in a hard plastic box. The image on the cover is a screenshot from the movie, not too clear unfortunately. The menu is clear and you get direct access to both the scenes and the songs.

Content

Last week ElvisNews.com received a preview copy of the remastered Loving You, one of the first Elvis DVDs. "Is it worth the money?" is the first thing you have to ask yourself before buying a video or DVD of a movie you have probably seen pretty often before. Well, we can answer this question easily for you! Yes, it is. Fortunately Trimark Pictures didn't edit the content itself, as was done with some recent remastered movies. So we have the full movie, but in much better quality. Both the sound- and picture-quality are improved. The colours are very clear and the images very sharp. Like the scene with "Lonesome Cowboy": it used to be a light, smudged spot on the a normal TV-screen. Now you see clearly a small image of Elvis in the dark surrounding. The movie itself may not be Elvis' best one, but it certainly isn't the worst. Very enjoyable music, a great looking Elvis with his hair dyed black for the first time, especially for the movie (because it looked better in a colour picture).

For those who aren't familiar with the movie here is the information available on Elvis in Hollywood:

Title:
Loving you

Company:
Paramount

Producer:
Hal B. Wallis

Director:
Hal Kanter

Screenplay:
Herbert Baker and Hal Kanter (based on a story by Mary Agnes Thompson)

Co-actors:
Lizabeth Scott, Wendell Corey, Dolores Hart, James Gleason, Ralph Dunke, Paul Smith, Ken Becker, Jana Lund

Length:
101 min.

First appearance:
July 9, 1957

Storyline:
The young truckdriver Deke Rivers (Elvis Presley) is discovered as a singer by a press-agent, Glenda Markle (Lizabeth Scott) during an election-campaign. She contracts him for a band. His success grows bigger from performance to performance, but he has to choose between the press-agent, who is responsible for his success, and the female-singer of the band, Susan Jessup (Dolores Hart), who he likes very much.

Behind the scenes:
"Loving You" was originally titled "Lonesome Cowboy" and then changed to "Running Wild". Famous TV host Ed Sullivan referred to this title when Elvis made his last appearance on his show, January 6, 1957.

Production began on January 21, 1957 and was completed in early March.

"Loving You" was based on a story called "A Call from Mitch Miller" by Mary Agnes Thompson.

Dolores Hart made her film debut in "Loving You". She also appeared in Elvis' fourth movie, "King Creole". In 1963 she retired and became a nun. Hart is now know as Mother Dolores at the convent of Regina Laudis in Bethlehem, Connecticut.

"Loving you", Elvis' first color film, premiered in Memphis on July 9, 1957, at the Strand Theater and opened nationally on July 30.

Director Hal Kanter spent some time on the road with Elvis and his band for research prior to the film's production. In December 1956, he went to see his performance at the "Louisiana Hayride" in Shreveport.

Elvis' mother and father, Gladys and Vernon, can clearly be seen in the audience while Elvis performs "Got a Lot o' Livin to Do" during the closing sequence.

"Loving You" reached No. 7 on Variety's weekly list of top-grossing films.

In its review The Los Angeles Times said "A furtive step on Presley's part in a screen career"

Songs:
Teddy Bear, Got a Lot o' Livin' to Do, Loving You, Lonesome Cowboy, Hot Dog, Mean Woman Blues, Party

Recorded at the Paramount Scoring Stage and Radio Recorders, Hollywood. Engineers: Phil Wisdom and Thorne Nogar. January - February 1957

Musicians: Guitars: Scotty Moore, Tiny Timbrell, Elvis Presley. Bass: Bill Black. Drums: D.J. Fontana. Piano: Dudley Brooks, Gordon Stoker, Hoyt Hawkins. Harmonica: George Fields. Vocals: The Jordanaires.

Dolores Hart sang "Dancing on a Dare", "Detour" (a 1951 hit for Patti Page) and "The Yellow Rose". Tex Warner's Rough Riding Ramblers played "Candy Kisses".

The soundtrack album received gold certification and entered the Billboard chart on July 22, 1957, at No. 11 and stayed at No. 1 for 10 weeks.

On June 11, the platinum certified single "Loving You"/ "Teddy Bear" was released. It became Elvis' eighth million seller and stayed at No. 1 for seven weeks. In the United Kingdom, "Teddy Bear" reached No. 2.

In October, Billboard introduced a new chart for extended play records. Elvis had four of the 10 listed: Loving You, Vol. 1 (1), Just For You (3), Peace in the Valley (9) and Loving You, Vol. 2 (10).

During October 1957, the United Kingdom issued "Party" and "Got a Lot o' Livin' to Do' as a single from the film. They reached No. 2 and NO. 17 respectively in the national singles chart.