He Touched Me - The Gospel Music Of Elvis Presley Vol. 1 and 2
Video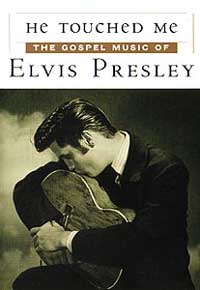 Released: 2000/07/18
by Coming Home
Brilliant, sincere, touching could all be used to describe this two part documentary and no more would need to be said about this documentary on Elvis' Gospel recordings.
ElvisNews review
Brilliant, sincere, touching could all be used to describe this two part documentary and no more would need to be said but then again the purpose of a review is to give the reader an in-depth description of what is being reviewed.

This two part documentary, narrated by Sander Vanocur, is definitely a labor of love and the sincerity of all involved shines through time and time again. The documentary delves deeply into exploring the religious side of Elvis' life, which most Elvis fans knew existed, but had only heard little snippets of prior to this documentary.

Anecdotes, by Gospel greats Ed Enoch (The Stamps), the late J. D. Sumner (The Stamps), Jake Hess (The Imperials), Myrna Smith (The Sweet Inspirations), Ray Walker (The Jordanaires) and many more, trace Elvis' Gospel roots and are skillfully interwoven with performances of Elvis singing Gospel music.

The overdubbing and overlays are meticulously done meshing well with the overall content and are complimented by the excellent clarity, color and superior audio quality of this two part documentary.

The highlight for me personally was seeing the late J. D. Sumner as a young man and later as most of us remembers him singing bass with Elvis just having a good time singing Gospel music.

Finally our compliments to all involved on a very professional job on your superb production and many thanks for showing so many people a side of Elvis that was never completely known until now. We also found it very fitting the documentary is dedicated to the memory of Elvis Presley and J. D. Sumner.

The DVD's and videos maintain the same high quality visual and audio attributes of the TV documentary and are each augmented by an additional 30 minutes of running time - for a total running time of 90 minutes. A lot of care has been taken in choosing the right cover photos for the video packaging. The light tinting of the photos gives them a very soft tranquil look that enhances the over all look of the packaging.

It includes the songs: How great thou art - Peace in the valley - Swing down, sweet Chariot - Where could I go - I, John - If I can dream - An American Trilogy - Bosom of Abraham - This time you gave me a mountain - In the ghetto - Put your hand in the hand - Bridge over troubled water - He touched me - I believe in the man in the sky - Why me lord - Take my hand, precious lord - In the garden - His hand in mine - It is no secret - Mansion over the hilltop - Father along - Where no one stands alone - Without him - You'll never walk alone - Amazing Grace - Turn your eyes upon Jesus - I'm saved - I'll remember you - Somebody bigger than you and I - Up above my head - Sweet, sweet spirit - Stand by me.