Viva Las Vegas
Video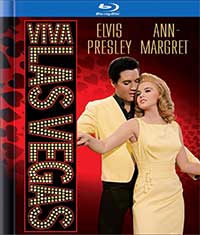 Released: 2014/08/12
by MGM
Digibook edition for its 50th anniversary.
I've already got this on Blu ray. I'm not buying it again just because it's being re released in a fancier package.
Rating: 3 / 5
This has already been released on Blu-Ray & was Region Free. It's now being reissued in a book form case, but according to Amazon U.K. & Amazon.com (U.S.A.) this will be region A which means it will not play on Blu-Ray machines in Europe, hence the one star. As an Elvis movie it's one of the better ones he did in the 60's (just!) only because of the on screen chemistry with Ann-Margret, for that I give it 4 stars.
Rating: 1 / 5