Elvis Presley's Graceland Through The Years
Book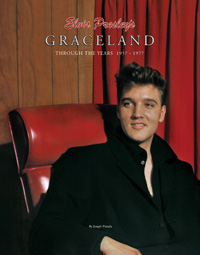 Released: 2012/07
by Boxcar
The ultimate work on Elvis' mansion.
ElvisNews review
Boxcar issued a literally heavy weight book on Elvis' mansion.
Design
The book comes in a hard box and both the box and book cover are beautiful. Also the inside is a treat for the eye… well designed, tasteful colour combinations and a good text lay-out gives the book a very professional look.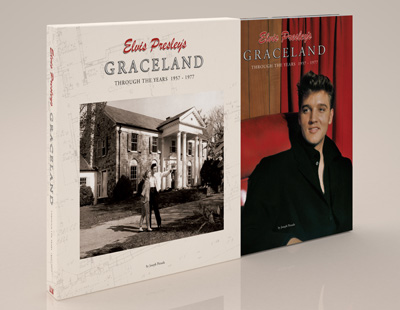 Content
The 448 pages are roughly divided in two parts: the first mainly on Graceland (255 pages), the second on Elvis on or near the grounds during the time he owned the mansion.
The part on Graceland itself focusses on the history, the blueprint and the rooms, also upstairs. There are newspaper clippings, contracts, background information and of course tons of pictures. I can't say I am fond of Elvis' taste, to me it looks more like a bordello mostly… but I loved the pictures of Linda Thompson. The collected information is interesting and well written (or edited). Also in this part there are quite some shots of Elvis, mainly candid shots. Though they have an intimacy I like, they fit not on the full size, which happens sometimes. This is the only slight comment I can make on the design (oops, should have done that earlier).
For the very curious: the upstairs photos are not many and not in too good quality (in opposite of most pictures of the rooms).
The "through the years" part with Elvis are mainly candid shots, but also the few professional shoots (With Yvonne Lime, A Date With Elvis among others) that were done on the Graceland grounds. There are also some newspaper clippings in this part, on the visitors and Gladys' death for instance.
Conclusion
To be honest I thought "do we really need this, another book on Graceland" when it was announced. The final product makes me happy to have it in my collection, a real beauty: not only a physical heavy weight, but also figural!
Pieter
wrote on
September 04, 2012
Good book but not an essential one!
Rating: 3 / 5