Elvis 1956
Book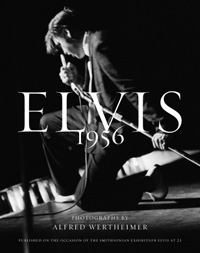 Released: 2009/11
by Welcome books
ElvisNews review
Every other year the famous Wertheimer collection is rehashed in some form, this year because of the traveling exhibition Elvis At 21.
Design
The 128 page hardcover book is presented beautifully. The lay out is tasteful and the recollections of Alfred Wertheimer and the pictures are well balanced. The print quality is high, which do justice to these great pictures.
Content
Next to the introduction Chris Murray and essays by E. Warren Perry, Jr. and Amy Henderson, which give an interesting read, but reveal nothing new, there are no surprises. Most of us know all pictures by heart, although there are some – like the ones when Elvis got off the train in Memphis - that don't look too familiar (read: used over and over again).
Still I prefer to watch these pictures over and over again then any of the countless jumpsuit books.
Conclusion
It is a beautiful book, very well presented but for the hard-core fan there is nothing new. If you missed any of the many other Wertheimer collections, this would be a nice start.
(ISBN: 978-1-59962-073-2 (1-59962-073-1))