Hot Shots And Cool Clips - Vol. 4
Video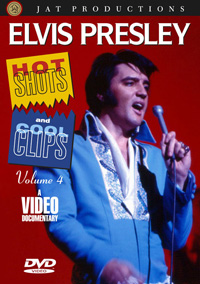 Released: 2009/03/02
by JAT Publishing
Volume 4 in Joe Tunzi's video documentary series featuring original footage.
ElvisNews review
Joe Tunzi released the fourth volume in his "Hot Shots And Cool Clips" DVD series. Did he dig up some new material?
Design
The design is simple with a nice shot of our man. Unfortunately the shot does not cover the content of the disc. So why use this picture?
Content
To be honest, I have mixed feelings about these kinds of releases. On one hand it is nice to watch the footage of our man, since not that much survived, on the other hand I will not watch it again as it isn't very entertaining. Does this mean you can skip this DVD? Despite the remark above I'm glad Joe Tunzi was so kind to sent us a copy because the disc does contain some nice footage.
The fifties and sixties footage didn't bring much new for my eyes as most of it has been released before. The curtain call from the Milton Berle show call is rare, so is the better quality footage from the American Sound Studios.
The footage of our man from the later years of his career could have been skipped; Elvis looks like that Michelin man with some homemade instrumental music in the background. It must be the belt that keeps everything together. The transition from the handsome man that comes home from the army to the blurb in the middle of my screen is too much for me. Especially with the homemade music that comes along with it.
Although I usually change channels when the commercials come on I sat through the commercials for the Camden and RCA releases on this disc; nice to see how our man was sold back in the days. Together with the footage of Elvis' funeral and mourning fans this was the most interesting footage.
What still amazes me after all these years is that so little material is available of the Greatest Entertainer in the history of popular music. On this disc you get footage from:
* 1955 in Texas ( unedited)
* 1956 Hy Gardner Calling
* 1956 Curtain Call On Milton Berle
* 1960 Last interview before returning home from the army
* 1962 It Happened At The World's Fair
* 1969 American Sound Studio
* 1972 Buffalo, NY
* 1972 Chicago, IL
* 1976 Dayton, OH
* and the end...August 18th, 1977
Conclusion
A nice disc for the collectors with some interesting items for the historians among us.