Inside Blue Hawaii
Book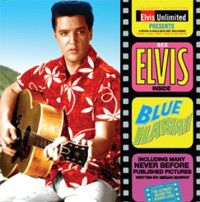 Released: 2008/12
by Elvis Unlimited
In this year's fall, we can expect a new release in the popular 'Inside' box sets series, according to Elvis Unlimited. It will be the fifth movie (after Double Trouble, GI Blues, Love Me Tender and Roustabout) that will give an exclusive and detailed look behind the screens. As with previous releases, the combination of a book, DVD and vinyl single – all packed in a deluxe collector's box will be used.
Blue Hawaii is an excellent movie, superb soundtrack, and this "new" album cover is just beeautiful!
Rating: 5 / 5
DCKing say's it all really. I didn't get "Double Trouble" & "Roustabout" because they are poor films.
Lol, I meant CD King of course !