Portraits
Book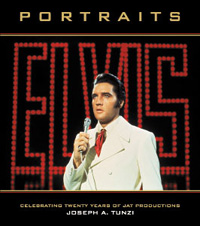 Released: 2008/04/10
by JAT Publishing
Anniversary book from Joe Tunzi's JAT Publishing company celebrating 20 years of Elvis books. The book is filled with portraits of Elvis. Most pictures are from promo shoots for movies or album sleeves. The largest selection is from the 60s. The foreword is from Mike Eder, he talks about Tunzi's publications from a fans eye view.
ElvisNews review
Joe Tunzi celebrates twenty years of JAT Publishing with the book "Portraits"; a treat for us fans?


Design

The book is hard-cover and full color on glossy paper which make the pictures really "shine". A real step up from previous releases from JAT Publishing which are usually ninety percent black and white with a floppy cover. This time no calendar of bonus CD but a postcard announcing Joe's next project "Elvis Concerts".
Content

The title of the book - "Portraits" - perfectly covers the content; portraits of Elvis Presley. Contrary to a lot of Joe Tunzi's books this book is full color and that adds to the enjoyment of browsing through the pages.

Most images are from the mid-sixties with some older and less than a hand full from the seventies. The latter are shots of Elvis posing in jumpsuits, not for a portrait shot so they don't really fit in the theme of the book. The lack of portraits from the seventies was not something I actively had in mind, but most album covers from that era feature live shots from our man, so a few of those could have fitted the theme. Most pictures are well known, but there are some "out-takes" or variations of famous shots.

The book itself- hard cover and full color - looks very glossy and is a true celebration (of 20 years of JAT Publishing, congrats Joe!). This is the format I prefer my books in, not the floppy covers, it doesn't give a book a touch off class and longevity.

A minor is the lack of text. The introduction by Mike Eder on discovering Elvis and Joe's book is probably recognizable for a lot of fans. I guess we all have a story like this, but besides a list of months and years no other information is given. A few lines to place the picture of portrait shoot in it's historic perspective would have been nice to complete the picture.

Joe hid one funny joke in the book, just get and try to find it. And no finding the answer will not win you a copy, but you can win a copy by entering the quiz through our portal.


Conclusion

A good looking celebration of Elvis Presley and JAT Publishing, I hope the next book will be as classy as this one.