Return To Splendour
Video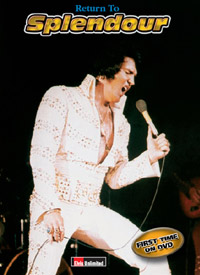 Released: 2004/10
by Elvis Unlimited
The first DVD release of this silent concert footage / documentary set.
ElvisNews review
This famous video release from 1994 is made available on DVD by Elvis Unlimited 10 years later. Can we live without it?

Design

The cover has straight tasteful design, with a great picture of our man. The texts are all clearly readable because of the chosen font and colours. There is a very clear statement that the DVD does not feature the singing voice of Elvis, something others could learn from. The chapter list clearly describes what can be expected. Unfortunately the chapters on the DVD itself are just numbered, so you need to memorize or use the cover to jump to the right one. Some keywords might have been useful. But what are we complaining? At least the disc has chapters.

Content

Probably the many that are familiar with the content of the original are only interested in the image quality. We can be short on that: it isn't improved. That was hardly to expect anyway, regarding the 8mm source of the material. But we have it on a Silver disc now that will last much longer than a video tape. Too bad the DVD has no extras either compared to the video.
For those that do not know the original: prepare for a treat. Although the quality of the image varies from pretty poor to very good, the whole is very enjoyable. The sometimes marvelous 8mm footage is well put together in documentary format.
Right from the start some VERY dynamic footage from Las Vegas, 1969 (unfortunately in the lesser image quality) catches you. Basically the DVD brings you into the seventies chronologically, up to 1975 on stage. Footage made in Detroit, Kansas City, Wichita, Las Vegas, Houston and New York (to name a few) brings you criss-cross the States too. Furthermore there is a chapter with candid footage of Elvis leaving houses, hotels and planes. The narrator tells some interesting details about the various shows and tours, put together by Anne Nixon. Somehow this documentary format makes the footage much more interesting to watch than an irritating country tune.

Conclusion

Whether you can live without this DVD or not you have to make up yourself. We think that every fan should have seen it at least once. The dynamic fan footage brings much more "feeling" about Elvis on stage than the official, professional material available.