Inside Graceland
Book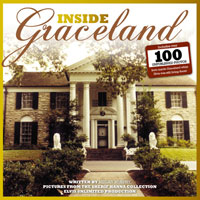 Released: 2007/12/07
by Elvis Unlimited
The book contains over 100 never before published pictures from 1975 when Elvis' girlfriend Linda Thompson is the photographers guide in the mansion and 1977 right before the opening for the public. You'll notice that the interior changed a lot after Elvis passed away. Now you see the red Ludwig XV styled rooms. The pictures are from the private collection of Sherif Hanna.
ElvisNews review
The "Inside" book series continues, but this time we actually go inside a building.


Design
This full color book by Elvis Unlimited has a very attractive design, no comments here.


Content
This is the kind of book you would expect to be released by Elvis Presley Enterprises, as they actually own, maintain and exploit the Graceland Mansion. But no, this book comes from a European fan club. Perhaps they decided to go inside the Graceland mansion because they announced to build a replica in Denmark. Whatever the reason, I'm glad they put this out.

The book is kind-of presented as a guided tour by Linda Thompson who is featured on many pictures. Much of the Louis XV red velour was Linda's idea. The book mentions Elvis didn't really like it, and that's why it was restored to the white and blue from the Priscilla era when it opened to the public in 1982.

You can accuse our man of many things, but a good taste in decorating is not something you can put on him. This is kind of a relief because Linda, a bible reading girl, had turned the mansion into a brothel. Elvis must have really loved her to allow this ;-).
All images are presented with additional background information completing the picture.
Besides the old look of the house in 1975 we get images of some of the buildings surrounding Graceland, some cars and the way Elvis' heritage was presented to the public in 1982 with his jumpsuit on hangers like they came straight out of the closet.

The difference with the official tour book, and a big pro, is that this book is actually dedicated to Graceland and not to its main occupier, Elvis, telling part of his life story too and showing lots of memorabilia. For a book with a mansion as the main subject that makes a huge difference.

The second pro of this book is that it shows Graceland they way it was when Elvis lived there. Of course there were many makeovers done by Priscilla and the various long-term girlfriends, but in this book it does not look like the "museum" it is now, no pun intended.

What I do miss are the drawings of the building, they are widely available on the World Wide Web, and it would have been nice to include some of those.

Finally it is nice to see that someone like Sherif Hanna opens up his collection for fans through quality products on the Follow That Dream label and now this book. I hope he continues to share his collection through quality products like this.


Conclusion
With this book you actually go inside the original Graceland, showing you how it looked when Elvis, or should I say when Linda Thompson, lived there.
It would have been nice when this and the official tour book were combined showing the two different looks of the mansion since together these two books paint the complete picture.

You can buy this book through our shop or directly from Elvis Unlimited.