Elvis A Generous Heart
Video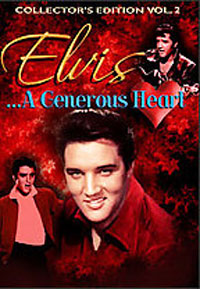 Released: 2007/11/13
Documentary DVD on Elvis' generousity.
ElvisNews review
Most fans know Elvis was a person who shared his wealth with strangers on the street giving away cars and houses, but also to people in need without anybody knowing about it.
Design
The package looks nice. When I would find it in a store I would expect the movie to be about love due to the use of the red colour and the heart. But you can call Elvis' generosity "love", so the theme matches.
Content
The documentary takes a long time to get started due to the three biography and career chapters that introduces the main theme of this documentary; Elvis' generosity (the fourth chapter). But once it gets started it shows many stories on how Elvis shared his wealth publicly and silently. The documentary tells the background on some of Elvis favourite gifts, jewellery and cars (about two hundred Cadillacs during his lifetime, there is a documentary on this subject alone). Elvis' jeweller Lowell Hays and his friend George Klein are the main persons to be interviewed. The reason behind Elvis generosity is addressed briefly too.
Elvis' poor upbringing, the death of his stillborn brother and sharing personality may very well have been the reasons why he wanted to share his wealth, or as he said it according to George Klein: "What is fame and fortune when you can't share it with your friends." He enjoyed the look in people's eyes when he surprised them (so eventually he might have given away those cars for his own pleasure :-)). I wonder how some of his (so called) friends returned the favour; the documentary doesn't go into that. This documentary itself runs a bit too long, at one point it are all the same kind of stories. I do wonder what's the truth behind these stories of which not too many are new to my ears and eyes. It is nice to see that Elvis' generosity still continues today through Presley Place.
Conclusion
This documentary tells the story of Elvis' life and career, unfortunately without any Elvis music. But it correctly tells the story and with the additional generosity theme the casual viewer will see another picture than the standard "drugs abuse" documentary we have seen so many times. So let's hope it is a success.
Is there anything in this we don't have already? And what happened to volume 1??!!
Rating: 1 / 5