G.I. Blues
Video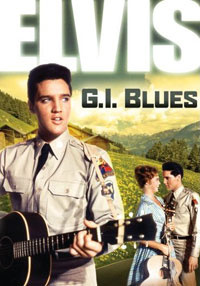 Released: 2007/08/07
by Paramount
The year was 1960. A payola scandal shocks the music world. Movie fans are introduced to glorious Smeii-O-Vision. The 50-star flag is adopted. And in GI Blues, Elvis adopts an on-screen persona he knows well in real life – a singin' GI in West Germany. Eager to open a stateside nightclub after his hitch in khakis, he takes part in a wager to raise the dough he needs. The bet: he can melt the iceburg heart of a willowy dancer. But all bets may be off when real love intervenes….
I really love the covers Paramount is making! The movie... not so much, it's too "syrupy" for me.
Rating: 4 / 5
To me the movie is just fine - better than so many pictures from the middle 60-s.... the cover is much more beautiful than the previous version's!
Rating: 4 / 5
Great cover and one of Elvis' better films with some memorable songs too
Rating: 3 / 5