Elvis: That's The Way It Is Special Edition - 2007 2DVD Edition
Video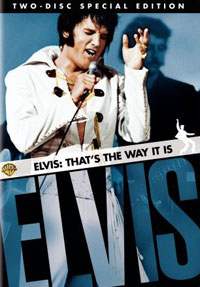 Released: 2007/08/07
by Warner Home Video
It's summer 1970 and this concert documentary allows unrestricted access to the hottest show in town: Elvis Presley's milestone four weeks of appearances at the International Hotel in Las Vegas. Dozens of tunes (including favorites "All Shook Up" and "Suspicious Minds") are included as the camera follows the show's development from rehearsal to stage. This 2-Disc Special Edition contains two versions – the original 1970 theatrical version and the critically-acclaimed Special Edition from 2000.
ElvisNews review
Whether you are a long time Elvis fan, or just interested in the music and showmanship of the King of Entertainers, this is a nice collection! Filmed in 1970, backstage, on stage, during rehearsals and with a wealth of celebrities in attendance, these performances are from a time many consider to be at the height of Elvis's career.

In the summer of 1970, a slim strong-voiced Elvis performed a live show for four weeks at the International Hotel in Las Vegas. The result was that the world fell in love again with Elvis and his music. He gave his fans the show of a lifetime in these performances, including songs from his beginnings such as All Shook Up, and Hound Dog, all the way to his final #1 hit Suspicious Minds.

Mixed with the stage numbers are footage of rehearsals, on-stage ad libs, and moments that are simply Elvis lore. First released in theaters in 1970, this feature was re-released with special additions in 2001.

The DVD is a two disc set, with an accompanying art photo booklet composed of images from the time.

Disc one is the 2001 re-release of the feature and includes Restoration Featurette Patch it Up:
The Restoration of Elvis:
Presley Career Highlights:
Director/Restorer Filmographies and Theatrical Trailer.

Running time is 96 minutes, and there are English and French subtitles available.

The opening credits inform the viewer that footage that was not used in the final film of 1970's is now available in this disc. An exciting prospect!

Disc Two is the 1970 Original Theatrical Version, and has a "Dozen Never-Seen Outtake Songs/Non musical sequences. Running time for this disc is 108 minutes with English and French subtitles available for the feature.

This feature film is still great fun. Originally, it was interesting and a novelty to see a performer of Elvis's caliber in rehearsals and as a confident showman, and real person. Now, it is great to see how the music is still familiar, is holding up well in the 21st century, and that Elvis's performances continue to work a kind of magic on the viewer. Not only of interest because of the performer and the music, this film is a time capsule, of styles, attitudes, pleasures and problems of the time.

Bright patterned polyester shirts, amazing Afro hair do's and my gosh, Elvis's incredible sideburns vie for attention along side music, and stories, jokes and unforgettable moments. Fans didn't have internet, DVD's or videos to watch in those days, they had feature films such as Elvis - That's the Way It Is (Two-Disc Special Edition) to bring their favorite performers to life.
Rating: 4 / 5
Rating: 3 / 5
Rating: 3 / 5
Rating: 3 / 5
Rating: 5 / 5
Rating: 3 / 5