Elvis Presley: The Family Album
Book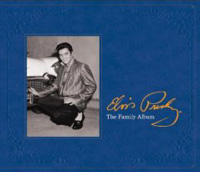 Released: 2007/11/02
by Little, Brown and Company
A picture book by Elvis' former best friend George Klein. It comes with a padded cover that mimic hand-tooled leather of old-fashioned photo albums. The images range from the familiar, with publicity photos, to the rare, with candid backstage snapshots.
ElvisNews review
If you're looking for a holiday gift for a fan of either "The King" or "The Chairman of the Board," there are two books that just came out that will provide the perfect answer.

"Elvis Presley: The Family Album" and "Frank Sinatra: The Family Album" (both Little, Brown & Co., $29.99 hardcover) take a refreshing approach to an appreciation of the two American musical icons by assembling collections of photographs in faux family photo albums.

The images range from the familiar, with publicity photos, to the rare, with candid backstage snapshots.

Both books come with padded covers that mimic hand-tooled leather of old-fashioned photo albums, with a single vertical window cut into the cover for one photo to be highlighted. The Presley album is blue, while Sinatra's is rust-colored. Both albums bear facsimile signatures of their respective artists.

Although copyrights on both publications credit the artists' estates, the images appear to come from a variety of sources, with some appearing to be legitimate family snapshots while others appear to be publicity stills.

In the Presley book, the more interesting images come from his youth, the period before he rose to fame. These shots provide truly candid glimpses of the King without the trappings of celebrity. Elvis's sixth-grade class photo shows him as the only boy wearing overalls, probably a sign of his countrified upbringing. The caption provided by longtime friend George Klein, who provides the narrative for most of the book, explains that as an adult, Presley loathed blue jeans and overalls, and speculates that the class shot may have been one of the last with him dressed that way.

There are also numerous shots of Presley obliging fans and posing for pictures. Consequently, you see snapshots of him with fans backstage, at the local Memphis men's store where he bought his outfits, and with various members of his entourage. These don't add an awful lot to the Presley canon, but they do provide an example of the bond between the star and his many fans.

As with Presley, you'd think that everything ever shot of Frank Sinatra has already been published. But for his family album, Charles Pignone seems to have found some new ones in the Sinatra family archives.

Perhaps it's because there was more of Sinatra's life to draw from, but his "family album" seems richer and more interesting than Presley's, with fewer redundancies. In addition, while Klein provides much of the running commentary for the Presley book, Pignone inserts quotes from Sinatra's friends and family that give you a better appreciation of the man and his lifestyle. And, quite frankly (no pun intended), Sinatra moved in more interesting circles and had a more interesting life than Presley did.

An amateur photographer, Sinatra himself provides some of the pictures for the book, like the black-and-white shot of Eleanor Roosevelt on the campaign trail with presidential candidate John F. Kennedy. Another image is a color frame-filling shot of the Sphinx, taken while visiting Egypt for a benefit performance in front of the Great Pyramids. The shot is displayed opposite a black-and-white image of Sinatra rehearsing the open-air concert with the Sphinx and pyramids in the background.

Sinatra's book seems more like an authentic family album because, besides showing the obligatory backstage or behind-the-scenes material (especially funny is all the CBS-TV remote equipment outside his home for a "candid" Edward R. Morrow "Person to Person" interview show), we really do get a view of him as a family man.

Particularly telling are snapshots of him and his two granddaughters playing at his Palm Springs home. They seem very authentic, not having been crafted by some record company or studio flacks.

Mitchell Seidel can be reached at mseidel@starledger.com or (973) 392-1780.