Hot Shots And Cool Clips Volume 2
Video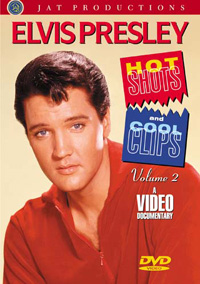 Released: 2007/04/02
by JAT Publishing
A Video Documentary into the life and career of Elvis using newsreels, home movies, and press interviews. This volume features clips from his 1957 Detroit performance, 1957 home movie footage of Graceland.
ElvisNews review
An Elvis Christmas edition in of TV Guide December seems to become a tradition, this year we get "It Won't Seem like Christmas without You".

Design

This year's Elvis edition of TV Guide comes in 4 editions again - no counting the special editions for radiostations and hotels - with four different CDROM designs. The TV guides itself contain no extra Elvis content besides an article on the Elvis Christmas edition of "Las Vegas" and two advertisements.

Content

This Christmas gift is actually a five inch standard CDROM, not a 3 inch audio CD like the previous two releases. Contentwise we hope "size does matter". When you put it in your PC a menu pops up with various content.

You get an Elvis video of "Blue Christmas" from the "'68 Comeback Special", unfortunately incomplete and in a low quality. Why use only 85 of the 650 MB available … why not stick to the 3 inch format if you don't use the megabits?

The picture gallery contains two hands full of pictures from our man and the Graceland mansion at Christmas in a slideshow on the music of the title track. Nice, but not very spectacular. Would have been nice if they would have tried to make a little video clip or at least be a little more creative with the slideshow, even automated tools you can find freely on the world wide web create more entertaining clips. The problem here is I got this set for the unreleased title track; I got only half a track in bad sound quality. O.k. it is almost for free, but still, the previous two TV Guides gave me a complete track. As for the track itself, the tempo is a bit slower than the master we know. You hear Elvis say "It feels good after we get into it", so he is still working on the song. Until now we have the master, take 6 and half of take 3 of this song available.

The behind-the-scenes for the "Las Vegas" Christmas episode. If you like the show, fun to see, but it is just footage, no storyline. Elvis pops up a lot of times though.

The remaining content are links to various websites from EPE, BMG and CBS.

Conclusion

Size doesn't matter. This edition of the December 2006 "Elvis" TV Guide is a nice to have, not a need to have like the previous editions. Contrary to the latter, this is just a promotional disc. Probably a nice promotion for Elvis and the Las Vegas Series with 9 million copies of this magazine going out to readers in the US (and fans worldwide).

I do wonder why BMG didn't add this unreleased version to their 2006 Christmas release. That would give the fans a real reason to buy that. Now they give half a song to the buyers of TV Guide magazine from which most copies will end up in the trashcan. Guess I'll have to wait for the 2007 BMG Christmas release to get it … or the FTD label must release a Christmas CD next year.