Elvis-The Documentaries
Book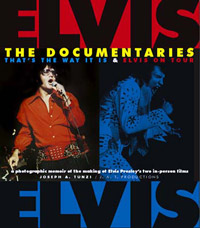 Released: 2005/11/10
by JAT
Finally a photographic memoir on two fan favorites, "That's The Way It Is" and "On Tour".
ElvisNews review
Finally a photographic memoir on two fan favorites, "That's The Way It Is" and "On Tour". Was it worth the 30 years wait?

Design

The cover of this book looks great, you can't go very wrong with Elvis in action using "That's The Way It Is" or "On Tour" as source. The book is soft-cover and unfortunately ninety percent in black and white. The printing is o.k., but it is no glossy print, there is simply too much distortion in the images.

Content

This book was announced over a year ago, and the anticipation from fans was high. Finally we have it in our hands. But a lot can happen in one year, even the unexpected. Who would have dared to place a bet on the fact that every fan with access to the world wide web could buy hours and hours of out-takes of both "That's The Way it Is" and "On Tour"? But the impossible happened and now we have a book with a lot of photographic material which we thought we would never see on video … but we did, and in color. O.K. the quality wasn't that good, but still. So to be honest, we did have to overcome a slight feeling of disappointment while browsing through the book.

In our eyes the book is not so much "a photographic memoir of the making of Elvis Presley's two in-person films" but more a collection of pictures from these two films. If it was a real "making of" we would have expected a documentary storyline with more text in a day-by-day style with background information. Presented here are sixty pages of black and white pictures of "That's The Way it Is" and forty five pages of "On Tour" images. All neatly dated and located, but that is the only information on these pages.

The next seventeen pages contain the detailed information on dates, recordings, performances, releases and so on, as we have come to expect from a Tunzi release. This again showed how badly the Elvis catalogue has been handled over the years with songs from the same show ending up scattered over many different releases. Thank God for the Follow That Dream series, ordening this a bit for the fans.

Most images come from pictures, but we believe we saw several images which appear to be screenshots. There are a lot of new images, and we especially enjoyed the images on which you see Elvis and the venue he performs in. That paints a good picture of the magnitude of his shows. And... at one moment you have seen enough close ups of the same person (yep, even Elvis).

The book ends with (unfortunately only) eight pages in full color. The last page contains a collage of single and album releases with material from these two films, but we wonder what the covers of "Aloha From Hawaii" and "Elvis As Recorded At Madison Square Garden" do in the picture.

Great to read the reviews and commend on Elvis' show from reporters who wrote it as they actually saw it. We can never do that listening to (import) releases or watching movies in the 21st. century looking back with all the knowledge we have. Unfortunately this material only covers two pages in the book.

Conclusion

A few months ago we would have enjoyed this book far more than we did after watching the "That's The Way It Is" and "on Tour" out-take material on video and in color. That doesn't mean it isn't a fun book browsing for pictures from these in-person movies, or having all the interesting details in print for our collection, it means the book was surpassed in time by the "miracle" appearance of the before mentioned out-takes.
eric c
wrote on
March 21, 2009
a GREAT book with excellent photos and information about these two great films.For me the photos are woth the price alone.
Rating: 5 / 5