Elvis As The One Called Charro
Book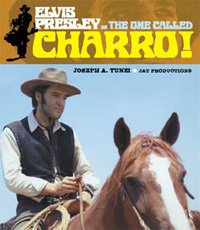 Released: 2006/04
by JAT Productions
a photo journal chronicling the making of elvis presleys 30th film in a straight dramatic role as a reformed outlaw, over 150 photos many unpublished in this unique film. Comes with a bonus CD of rare interviews and more.
ElvisNews review
A different kind of book of a different kind of movie?

Design

The (soft)cover does not show Elvis as the clean shaven young man which appeals to the general public. This fits the role he played in the movie. Inside the pictures are presented on glossy paper with a few incidental notes for additional information.

Content

The book opens with an introduction by Bill Bram which paints the background of the movie and puts it into an historical perspective. Add to that a few interview snippets of people who worked with Elvis on this movie and you have an interesting read.

The pictures are divided in several sections. In "Elvis On Screen" we get the big storyline of Elvis' 29th movie. In this western saga we find Elvis as Jess Wade, an (ex-)outlaw with a conscience who tries to break free from the clutches of a notorious gang. Vince (Victor French) is the leader who orders Jess' neck to be branded with a hot iron to make him look like the wanted criminal for a crime (stealing a gold-plated and jewel-encrusted Mexican cannon). Elvis becomes a deputy sheriff and captures one of the gang members. The gang terrorizes a small town by threatening to use a gold plated and jewel-encrusted Mexican cannon on the innocent population.

Interesting for many collectors and fans are the few "nude" shots (to spice up the movie for die hard western fans who might think Elvis was too soft regarding his other movie work) which were deleted from the movie in the United Stated edition of the movie.

In the "Candid Moments" section Elvis, the actors, the crew, the Colonel (this time pulling a gun on our man), visitors and fans pose for pictures or rehearse scenes. These pictures could easily have been mingled with the previous section for a more varied read.

In the "Publicity" section Elvis and co star Ina Balin pose for the standard publicity shots. On three pages we get press clippings and some promotional material is shown. This material could have been used more throughout the book to illustrate the images. Now we "just browse" many a-like-looking pictures. Everyone who writes a book on an Elvis movie should at least have a look at the Ger Rijff "Inside …" series to learn how to present this kind of material in a beautiful way.

In the final section "Charro! In Color" 14 pages with color pictures are shown; candids, movie stills and publicity shots. These look very good, showing the different kind of Elvis we know from the advertising slogan. The first edition of the book comes with a CD containing radio spots and interview snippets, nice for the collectors.

Conclusion

It is a nice book to have just because Elvis tried a different kind of role to aim his movie career in a different kind direction. The different kind of look is well documented in this book, but it is not the different kind of book we had hoped it would be, it is just too "simple" for that.