Love Me Tender 2006 Cinema Classics Collection
Video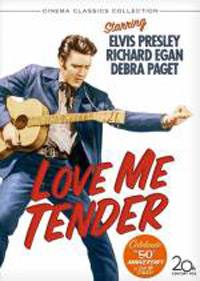 Released: 2006/02/28
by 20th Century Fox
Elvis plays Clint Reno, one of the brothers who stayed home while the other went to fight in the Civil War for the Confederate army. When his brother comes back from the war, he finds that his old girlfriend Cathy has married Clint. The family has to struggle to reach stability with this issue. Vance is involved in a train robbery. There is a conflict of interest, when Vance tries to return the money, against the wishes of some of his fellow Confederates.
well done all around on this package. The Hillbilly Cats first Movie appearance. In New York half the girls in my school were absent
Rating: 5 / 5
This terrific, deluxe, upgraded DVD "Love Me Tender" package got great notice when it came out last year, but with the embarrassment of riches fans today see released almost monthly (on FTD or import CDs and DVDs), it's somewhat been forgotten already! Don't forget to add it to your collection if you've missed it. It's an Elvis fan must! Kudos to 20th Century Fox for giving this first Presley flick this sort of serious treatment.
Rating: 5 / 5