Kid Galahad (US)
Video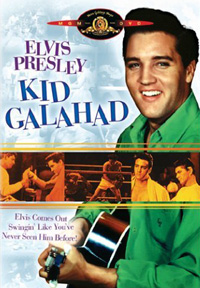 Released: 2005/12/06
by SONY
Walter Gulick, a sweet-natured country boy (who also sings), enters the fight game after discovering he has a killer punch. He rises through the boxing ranks, eventually getting a shot at the championship. But before the bout, a nefarious hotel manager tells Walter to take a dive, so he can make lots of dough. Will the song-belting boxer really go down? Or will he do the right thing and fight his heart out? Co-starring Charles Bronson.
ElvisNews review
MGM released this DVD late 2003 on a region 2 DVD. The cover isn't very spectacular and the DVD itself carries the same picture. The back cover has a short "story behind the story", next to the usual information.

The DVD contains the original mono soundtrack in English, German, French, Italian and Spanish. Also subtitles are available in a wide amount: French, Italian, Spanish, Dutch, Swedish, Norwegian, Danish, Finnish, Greek and Hebrew, and for the hard of hearing people there are special German and English subtitles. As usual there aren't many extras, only the original trailer and chapter selection. The picture itself is in widescreen (1.85:1) in a pretty good quality.

Kid Galahad, remake of the classic movie of Michael Curtiz (1937), certainly belongs to the upper half of Elvis-movies (which isn't that hard) and Charles Bronson, who recently passed away, and Oscar winner Gig Young certainly helped to make this movie worth viewing. For those that are not familiar with the story line:
The recently from the army returned Walter Gulick (Elvis Presley) becomes sparring-partner in a boxing-school and later a boxer himself. His manager is pressed by criminals, who prefer another boxer. Walter beats the criminals, wins an important match and the heart of his manager's sister.

With "King Of The Whole Wide World", "This Is Living", "Riding The Rainbow", "Home Is Where The Heart Is", "I Got Lucky" and "A Whistling Tune" the soundtrack is short, but like the movie itself above par.

Rating: 5 / 5
Rating: 5 / 5
Rating: 5 / 5
Rating: 5 / 5
Rating: 5 / 5