Rock-a-Hula Baby (10 Inch Vinyl Single)
Vinyl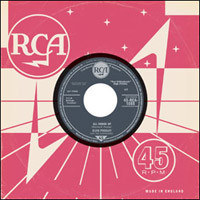 Released: 2005/02/28
by RCA
detailed re-release with original cover art.
ElvisNews review
Halfway through the UK #1 singles re-issues we go to Hawaii.

Design

This CD-single comes in the original US cover for the outer sleeve, the inner sleeve contains a copy of the original UK wrapper, a standard RCA sleeve. The vinyl edition only has the original UK sleeve, so no picture sleeve.

Content

The single "Rock-A-Hula-Baby" is presented as Elvis' contribution to the twist hype started by the legendary Chuck Berry. What can we say … it is sure better than Elvis "Do The Clam".

As for the single, both the A and flip-side are Hawaiian themed tracks. The A-side "Rock-A-Hula-Baby" is a happy up-tempo tune with an Hawaiian "twist" to it. You can play this any time. Sure curious to hear this sound next to today's sound when the UK Top 40 is broadcasted.

The flip side, "Can't help Falling in Love" is something else. More that the A-side this has become an Elvis' standard. On this release you get both the single and move version, the latter one as a bonus track. It is ranked high on many "All Time Favorite" ballads and Elvis' lists. To us it is one of those songs we have heart too much. At moments we even prefer UB40's cover from a few years back since that made the song sound differently.

Another reason we don't like the song that much is that it is Elvis used it as the closing theme for his concerts, so hearing "Can't Help Falling In Love" it means the concert is over, and who wants Elvis to stop singing.

Conclusion

Two strong songs with an Hawaiian twist, they will probably do well, but if they will stand out enough to attract additional buyers to hit the #1 spot is something we doubt.

For those who don't care too much about the charts, these detailed reproductions are real gems to collect on either CD-single, vinyl (or both …).

Courtesy of BMG Nederland you can win a copy of Elvis' single " Rock-A-Hula-Baby ", simply use the banner in the left menu.