Good Luck Charm (10 Inch Vinyl Single)
Vinyl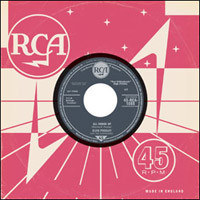 Released: 2005/02/28
by RCA
A detailed re-release with original cover art containing "Good Luck Charm", "Anything That's Part Of You" and an previously unreleased (on CD) version of the title track.
ElvisNews review
Another Aaron Schroeder and Wally Gold classic that originally made it to #1 in the UK.

Design

This CD-single comes in the original US cover for the outer sleeve, the inner sleeve contains a copy of the original UK wrapper, a standard RCA sleeve. The vinyl edition only has the original UK sleeve, so no picture sleeve.

Content

The single "Good Luck Charm" brings us one of those "never get tired to listen to" tracks, it's of the same level as "Stuck On You" and "All Shook Up", a real "Elvis classic" to anyone. The flipside of the original, "Anything That's Part Of You", is one of those Don Robertson "drift-aways. A beautiful tender ballad that shows Elvis outstanding capacities as a vocalist. These two songs together make it probably one of Elvis' strongest singles ever.
On this 2005 version we get take one of the A-side as a bonus. Strangly enough it was only released on vinyl before, and on some obscure French CDs.

Conclusion

Two very strong songs that will bring Elvis probably another Top 3 Hit. For those who don't care too much about the charts, these detailed reproductions are real gems to collect on either CD-single, vinyl (or both …).

Courtesy of BMG Nederland you can win a copy of Elvis' single "Good Luck Charm", simply use the banner in the left menu on our portal.