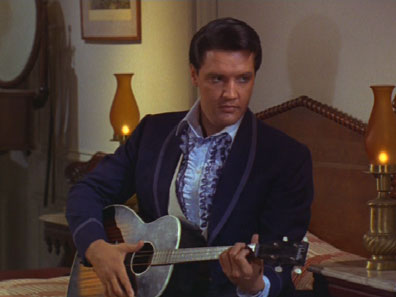 Taken on:

1965

Source:

ElvisNews' movie of the month

Photo:

Frankie & Johnny DVD

Location:

Set of Frankie & Johnny

Info:

In 1965 Elvis got heavily involved in the spiritual stuff. Larry Geller made himself very impopular with the Memphis Maffia by "brainwashing" Elvis. In co-star Donna Douglas Elvis found a connection and instead of the usual dating Elvis exchanged books and ideas with her. They spoke of Daya Mata and the Self-Realization Fellowship and meditated together. After the shooting Elvis gave away dozens of trademark "brotherhood" wristwatches, showing his well-known generosity.

Please Don't Stop Loving Me

Still on the set Elvis donated $50,000 to the Motion Picture Relief Fund in a special ceremony where Frank Sinatra and Barabara Stanwyck showed up to accept the cheque.
Login to give your opinion