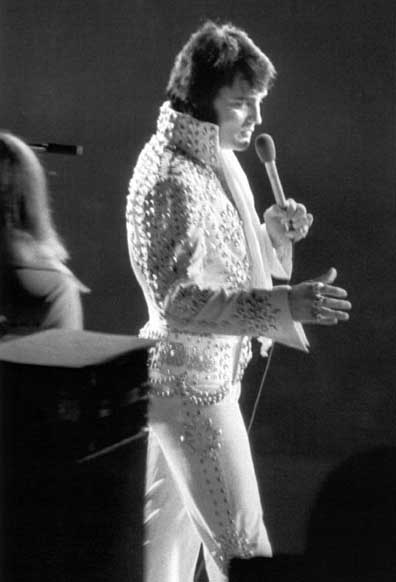 Taken on:

1973/04/26

Source:

Elvis The Concert Years (Stein Erik Skar)

Photo:

Elvis For The First Time Ever (Joseph A. Tunzi)

Location:

International Sports Arena, San Diego, California.

Attendance

15.000

Suit

Snowflake Suit / Blue Cap

Info:

The coaches were piled up almost on top of each other, inching an edging their way to the great Sports Arena gates. The bright sign outside the edifice proclaimed The King would appear before his subjects this night and not a space was left unreserved.

It was a regular holiday - vendors selling their wares which, in this case, were pictures of The King, books about The King and, ah yes, food to soothe the raging tide inside that had been left neglected in order to get a better position on the road to the Arena.

It isn't often royalty pays a visit to its subjects. But when it does, the townsfolk verily tumble over each other for a piece of the action. King Elvis Presley, that crowned monarch of rock and roll, rolled into this Southern California hamlet last night. It was his first visit here in two and a half years - a long time to keep the peasants waiting.

Once the Arena doors were opened, the multitude, numbering about 15.000, filed in, some stopping to peer and purchase the vendor's wares, others hurrying to their designated places to await the royal performance. Since good King Elvis has been around 17 years, he's built quite a following in our town, ranging in age from the very old to the very young. All groups were represented last night as well as all types from each age group. The Sweet Inspirations entertained in a soulful fashion, rendering a particularly tantalizing medley of Aretha Franklin hits they helped record.

At intermission, the subjects again milled about to the time of the vendor's cries. Some chose the pub, others the souvenir stands. Then a piercing shrill went up from the Arena interior. Lights flashed as if a thousand cannons had been set off. Floodlights illuminated the stage and The King walked to the center, bowing to his faithful, as the band struck up the first song.

But something was strangely different about King Elvis this night. His punch was missing, it seemed. His usually gyrating hips were giving way to just a shake of the head or tried to hit some low notes. He was going through the motions, both vocally and mechanically, without titillating the subjects who shelled out coins by the multitude to see him. It's probably true many of these subjects left the great Arena feeling the subdued and reserved King still clung to the top spot. But it's entirely possible many others left wondering if they had just caught a falling star.
Login to give your opinion