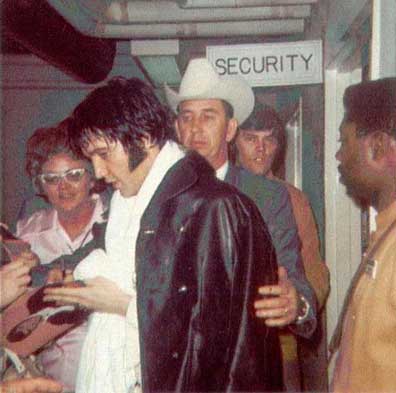 Taken on:

1970/02

Source:

"Elvis The Concert Years", "The Words Of Those Who Knew Him Best".

Photo:

John Wilkinson Website

Location:

Houston Astrodome backstage

Info:

Houston Astrodome was chosen by Colonel Parker to be the first venue for Elvis to perform outside Las Vegas. This was done for several reasons, but none of them was because the place was suitable for a show of the kind Elvis held. "The Dome" was an enormous hall, built in 1965, the least of its functions being for concerts. Parker was possibly unsure of Elvis' status in the wider world - performing in Las Vegas was something quite different from performing in venues which could seat far larger audiences. The rodeo show at "The Dome" always attracted thousands of people no matter what...

After the concluding show Elvis held a press conference for about 100 journalists at Astroworld. He declared that he got a big thrill out of the appearance in "The Dome". Elvis checked out of Astroworld wearing a blue Easy Rider-inspired suede jacket and black trousers, taking with him 20 suitcases and 3 guitars - $1.2 million richer than 3 days earlier.

Houston Astrodome was also the first venue to perform outside Las Vegas for 'The Sweet Inspirations'. Myrna Smith - The first time we were set to appear with Elvis outside of Vegas, we were exited. It was in Houston. The people were exceptionally nice to us. Later I found out the promoters had sent word that they were thrilled Elvis was coming, but NOT to bring 'those black girls' with him. Elvis had laid down the law that if we didn't come, HE wasn't coming either. So when we did the show, I wondered why everybody was so nice to us. None of the guys told us 'cause they didn't want to hurt our feelings. I found out years later that Elvis had stood up for us.
Login to give your opinion
Elvis is KING of the world here.He could have conquered the world within the next couple of years.