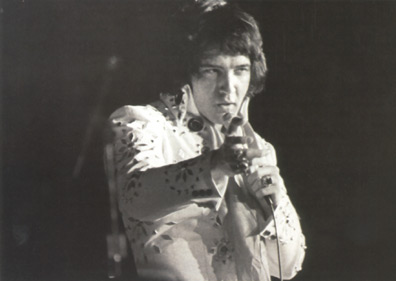 Taken on:

1973/02

Source:

Evening News, England

Photo:

Elvis The Concert Years (Stein Erik Skar

Location:

Las Vegas

Suit

Red Lion Suit

Info:

Does Elvis, the pearly king of pop, still care?

Las Vegas - They tag this fast growing 1973 version of the old Wild West gambling town "Fun City - The Entertainment Capital of the World". With more fruit machines, gaming tables, shows, stars and performers than anywhere else - plus a 24-hour gambling and TV operation - they are right. There is no logical reason for the existence of this illuminated oasis in a Nevada desert. And since there is nowhere like it, comparisons are impossible. The big shows and the international stars are booked simply to lure the visiting punters to a particular hotel. And the top draw at £ 54.000 a week can be found at the Hilton Hotel. The name is Elvis Presley and you won't miss it because his showman manager, Colonel Tom Parker, has it plastered thousands of times inside and outside the building. Money isn't enough to get you into the theatre - which seats 2.000 and is achitecturally early Odeon. But if you plead, tip, line up, or can pull strings, than you might be lucky. Presley runs out on stage to dramatic drumming. You notice the jet-black hair and sideburns, the sullen brooding features, the lopsided flashing white grin. But he's not going it alone. Backing him are a choir of nine, six personal musicians and a 35-piece orchestra. Elvis looks like a Pearly King of Pop in sky-blue jumpsuit, flared trousers and wide belt, the whole lot decorated with diamante. With a grunt and a jerk of the guitar, he rips arrogantly into "I Got A Woman". And the middle-aged teenyboppers who idolised him in the fifties are loving the living legend. I get the uneasy feeling that Elvis knows his power and these days is partically giving an impression of himself. He seems to be as interested in private jokes with his backing as with audience reaction. And who can blame him if he has the notion he is doing the fans a favour in appearing? He doesn't bother much with chat but pushes on with the songs and the first whiff of hysteria comes with "Fever". "This is the dirty part" he warns. Hitting a pose, he goes into the leg twitch and pelvic swivel. Pow! goes Elvis. Wow! shriek the girls. He may be 38 but he still retains the movements and some of the tunes that turned a Mississippi country boy into the biggest attraction of the day. The head, hip and shoulder jerk, the leg is still brached, he growls and he wiggles, and that look of hair continues to fall carefully out of place. Yet it registers in part at least as a measured impersonation. I wonder whether he cares anymore? By this time the white scarves are being tossed away continually to the increasingly blatant demands of the stageside sweeties. He sings, with great effect, "American Trilogy". Then a henchman fixes a cape around his shoulders and Elvis closes with "Can't Help Falling In Love". Just a farewell bow from the catwalk, with security men watching closely - but unneccessarily - for mobbing maidens, and he has gone.
Login to give your opinion