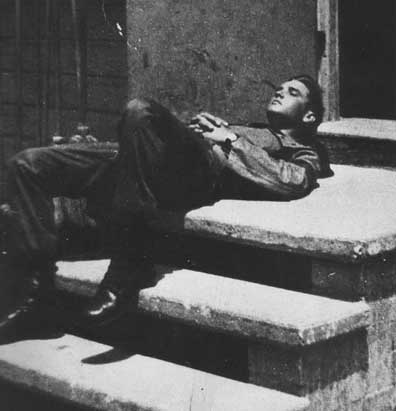 Taken on:

1958/08/14

Source:

Unseen Elvis (by Jim Curtin)

Photo:

August 14, 1958, the day Gladys died. Her devoted son told friends he felt that everything he had was gone. (Unseen Elvis)

Location:

Memphis

Info:

Gladys' health must have been troubling her long before she told anyone about it, but by August she looked and felt poor. She was having trouble walking and concentrating and was slipping into a constant gloom enlivened only by bursts of temper. She was also drinking. Elvis and Vernon finally insisted she returned home to Memphis to see the family doctor, who immediately admitted her to a private room in the brand new Methodist Hospital. The diagnosis: hepatitis.

Her condition was serious. Elvis, frantic, stayed in constant touch with her doctors from Fort Hood while he fought for an emergency leave. Gladys' life was fading away. Finally granted leave, Elvis contradicted his mother's wishes and boarded a plane to her bedside, where he and Vernon kept a constant vigil.

Her death several days later - officially listed as a heart attack, although the family refused an autopsy - devastated Elvis. He sobbed for days, putting any energy that wasn't absorbed by his wracking grief into preparing an elaborate funeral. Arrangements were made to fly in the Blackwoods, Gladys' favorite gospel group. Over 400 people attended the funeral, which ran long, with the Blackwoods honoring request after request from Elvis and Vernon. As the cortege wound its way afterward to Forest Hill Cemetery, thousands of fans stood in respectful silence, lining a route patrolled by 150 uniformed police officers.
Login to give your opinion